What They Didn't Teach You In Seminary
Dr. James Emery White, Gordon-Conwell Theological Seminary
Monday, July 02, 2012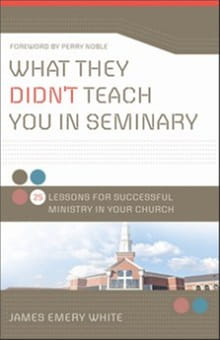 EDITOR'S NOTE: The following is an excerpt from What They Didn't Teach You In Seminary by Dr. James Emery White (Baker Books).
Introduction: What they never taught me in Seminary
What they never taught me in seminary—sounds like I'm going to pick a fight. I'm not. My life has been lived largely in two vocational worlds: the church and the academy. I am the founding and senior pastor of a church; I am a professor and former president of a seminary. So I would only be picking a fight with myself.
More than that, I loved seminary. I loved learning about church history and theology, philosophy and ethics. My pulse quickened the first time I was able to stand behind a podium and say, "In the Greek, this word means . . ." I loved building my library with works from Augustine to Zwingli.
Adding entire multivolume reference sets, such as Kittel's Theological Dictionary of the New Testament, made my hormones bubble. I was the classic three-year, residential MDiv student. But toward the end of my seminary studies, just before I started my doctoral work, I received a call from a church near the school asking me to consider coming as their interim pastor. It was an established denominational church in a county seat town near the seminary. The interim turned into a full-fledged invitation to serve as their senior pastor.
Some of you grew up in the church, so you had some experience with the inner workings of church life. Not me; I was pretty much unchurched for most of my life until the age of twenty. Even after I gave my life to Christ, I didn't get involved in the life of a church until a year or so before heading off to seminary. Thus when I, as a new pastor, was asked to officiate my first wedding, my first funeral, my first baptism, and my first communion, I was totally clueless. So why did they ask me to be a pastor in the first place in order to do such things? It was assumed that since I was nearing my graduation from seminary, I knew what I was doing.
I didn't .
So in panic mode I ended up buying every "minister's manual" the local Christian bookstore offered.
It didn't get any better.
I needed to raise money to meet the church's budget, and I had never had a class on that. I wanted to try to grow the church numerically by reaching out to the unchurched, and my course work had never touched on it. I had a problem with a combative and disagreeable deacon, and I searched through my seminary notes and found nothing. I found I needed to be in the office for administration, in my study to prepare my talks, in people's lives to stay connected to the community, and in my home to raise my family—and there hadn't been any instruction on how to manage that.
It was becoming painfully clear how little my seminary education had actually prepared me for the day-in, day-out responsibilities of leading a church.
I knew about the Council of Nicea, but no one had ever told me how to lead my own council meeting. I knew about the Barth-Brunner debate but not how to handle the breakdown between two Sunday school teachers when one was asked to start a new class, for the same age group, from the existing class. I knew the significance of the aorist verb but not how to parse the culture to know how best to communicate. I could tell you the leading theologians of the sixteenth century but not about leading and managing a staff.
Recently on Pastors / Leadership
Have something to say about this article? Leave your comment via Facebook below!
advertise with us
Example: "Gen 1:1" "John 3" "Moses" "trust"
Advanced Search
Listen to Your Favorite Pastors