What They Didn't Teach You In Seminary
Dr. James Emery White, Gordon-Conwell Theological Seminary
Monday, July 02, 2012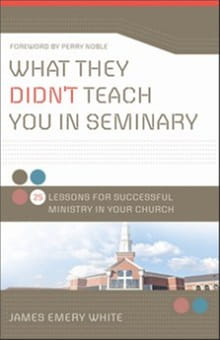 "What is it?" was all I could manage to say. He gave me the name of another staff member and said, "Jim, they're here because they've discovered she's been having an affair." And then he named the man she was involved with, who happened to be on our worship team. Let's just call them Jane and Bob.
I collapsed on the side of the bed as I held the phone in my hands. Thus began one of the worst experiences of my life and of the life of our church. After a night of no sleep, the next morning I met first with Jane. Then I met with Bob.
So much for vacation.
It turned out to all be true, and it had been going on for several weeks. Jane ended up resigning, and Bob and his wife left the church. It rocked our church's world. And mine. The ripple effects were incredible.
On a purely organizational level, it tore the guts out of our then fledgling music ministry. She was the leader of our band, our main musician, and our lead female vocalist. Her husband was our tech person. Bob was our lead male vocalist, and his wife was our only keyboardist. Our band no longer existed. Suddenly we found ourselves using recorded tracks for our weekend services.
But that was nothing compared to the emotional hit. There was the pain of the two families with a husband and a wife who felt utterly betrayed. Then there was the pain I felt as a pastor. When something like this happens, you feel violated, sick to your soul. You feel sick as a leader to see this church that you'd lay down your life for suddenly ripped apart. And you are supposed to sew things back together.
But the greater emotional hit is how you can quickly become the enemy, the bad guy, the adversary. In these situations and so many others like it, no matter how you handle the folks involved, some people will think you went too far on the side of grace, and others will think you went too far on the side of discipline. Change the story, change the people, and it's often the same. Pastors get caught in the crossfire of people's messes and often become the scapegoat. It's like the first person to rush to the side of a dog that has been hit by a car. In the midst of the dog's pain and frenzy, the person can often count on being bit—even though they are only trying to help.
We got through it as best we could, and with as much truth and grace toward both parties as possible, but Bob and his wife left very upset with us. They felt Bob should have been allowed to return to the platform after just a couple of months of counseling, and they accused us of showing partiality to Jane because she was on staff. So in the end, after we had poured ourselves into them for their reinstatement and loved them as best we knew how, they rejected us and left angry, taking with them four or five families who were their close friends.
I felt like I had been kicked by a horse.
There are so many other emotional hits in ministry: the stress of finances (both personal and in the church); the unexpected departure of staff; the pain of letters that criticize your ministry; the pressure of people who want to redefine the vision, mission, or orientation of the church; the relentless torrent of expectations; and the agony of making mistakes. And then there's this little thing called your marriage and family. So how do you manage your emotional survival?
First, the bad news: there's not a quick fix. Ministry is just flat-out tough and often emotionally draining. You won't ever escape the hits and the hurts. They come with the territory.
Now, the good news: you can develop a way of life that protects, strengthens, and replenishes you emotionally. You can cultivate a set of activities and choices that allow God to restore your soul. Some things are obvious, like regular days off and annual study breaks if you can get them. And you'll need to get a lot more savvy about people and how to deal with them, which we'll talk about later.
Recently on Pastors / Leadership
Have something to say about this article? Leave your comment via Facebook below!
advertise with us
Example: "Gen 1:1" "John 3" "Moses" "trust"
Advanced Search
Listen to Your Favorite Pastors