When You Run Out of Wax: Burning the Candle at Both Ends
Danny Sweatt , Today's Christian Preacher Magazine
Tuesday, August 23, 2005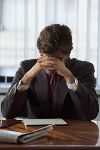 3. Organize your time. Learn to delegate responsibilities to others. A pastor cannot do everything himself. In the book Surprising Insights from the Unchurched, Thom Rainer revealed that ineffective pastors spend as much as eight of the fifty-two hours per week that they spend in church work doing custodial duties, such as locking and unlocking the church. Delegation frees the pastor from unnecessary tasks while involving the congregation in meaningful service.
Work hard at accomplishing the tasks that you alone can do, and delegate the rest. Learn to say no to activities that are not high priority.
4. Discipline your thought life. "Thou wilt keep him in perfect peace, whose mind is stayed on thee" (Isaiah 26:3). The mind is a battleground for every Christian, and especially so for every preacher. The mind's dwelling on the wrong things will be a pastor's downfall if he doesn't deal with it. God provided us the ability to control our minds (II Corinthians 10: 3–5, I Peter 1:13, Philippians 4:8). Lustful thoughts, worry, anger, and doubts can be the termites behind the paneling that eat away our stability and strength.
5. Nourish your marriage relationship and cherish your wife. In Genesis 2:18, God said, "It is not good that man should be alone." While in many ways Adam was perfect, God had left incompleteness in his life. That large hole was to be filled by a woman, also of God's design. This companion and helper completed Adam for the job God had for him to do. By her love and concern, the pastor's wife should help the pastor carry the load of the ministry.
The shepherding aspect of the pastor's role often puts great stress on family relationships. While working to strengthen others' homes, a pastor sometimes neglects his own. The isolation inherent in the pastoral position can and should be ameliorated by a strong family life. Both the pastor and the pastor's wife should take seriously the warning given in I Corinthians 7 and strive to fully appreciate the protection provided by the marriage relationship.
6. Take time away from your ministry. There will always be something else that needs to be done. Even our Lord saw the need to go away to a quiet place to renew Himself. A day off each week pays great dividends. Spend time with your family. Go fishing. Play golf. Plant a garden.
The pastoral responsibility makes many demands on the pastor's time. These can become a threat to family cohesion. Many pastors' kids express jealousy over the amount of time that Dad spends helping others compared with the time he gives to them. Pastors' wives sometimes feel as though they are competing for their husband's attention with some church member who needs help. Take advantage of the flexibility of a pastor's schedule to spend time with your wife, to attend a school program, or to take the family to a ballgame in the middle of the day. Attend a pastor's fellowship or take a day trip to a nearby park. A change of routine can reduce stress and clear the mind for more creative thinking.
Being a pastor is certainly not the two-day-a-week job that many imagine it to be. There are constant demands both from within ourselves and from those we serve. However, it is a vocation assigned by God, carrying with it His strength and power. By running the race with discipline and with patience, by looking to God for strength and wisdom, and by properly balancing the ministry demands with family and personal needs, we can finish our course with joy. By ignoring these safeguards, we can go down in flames as many have done before us.
Dr. Danny Sweatt is pastor of Berean Baptist Church in Lilburn, Georgia.
Recently on Pastors / Leadership
Have something to say about this article? Leave your comment via Facebook below!
advertise with us
Example: "Gen 1:1" "John 3" "Moses" "trust"
Advanced Search
Listen to Your Favorite Pastors