Youth Pastor Focus: Down Any Road
Lisa Crayton, Youthworker Journal
Friday, April 16, 2004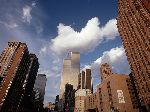 A week at a women's shelter in the heart of downtown Chicago, a fire escape, and a song by Point of Grace were enough to persuade Erica Nicole Watts that short-term urban missions was her life-long call.
It was Erica's first time in the inner city. Chicago was incredibly hot and humid that summer. Parents screaming at young children and no central air conditioning or fans all contributed to her rising frustration and discouragement. By week's end, she sought refuge on the fire escape. She sat there sweltering in the heat with the song "Any Road, Any Cost" blasting through her headphones. Suddenly, the words of the song began to speak to her. "I realized that was what God has called me to, to take up my cross, down any road, at any cost," says Watts. "Chicago hadn't been easy, but my heart felt like it was right where it belonged. In one week it was home. That night I dedicated my life to that city for as long as God needed me there."
Since that momentous trip more than three years ago, Watts, now 18, has participated in several other mission trips to Chicago, Denver, and Kansas City through Child Evangelism Fellowship and other trips sponsored by Grace Bible Church in Colorado Springs, CO. She is now majoring in Urban Missions at Moody Bible Institute.
For Suzie Eller of Muskogee, Oklahoma, short-term missions are a family affair. Eller, her husband Richard, and their three teens have participated together in dozens of such trips in this country and abroad over the past decade. "We are sending a family member on short-term mission trips four to five times a year," notes Eller.
A Mixed Bag
Frustration, fulfillment, empowerment, and disappointment: such are the mixed-bag blessings of short-term urban youth ministry. On one hand, such mission trips enable young people and youth workers to minister to the needs of individuals in their own backyards, but they also underscore the reality that inner city ministry can be both rewarding and frustrating.
That's what teens found out during outreaches at the Carl Bean AIDS Center in Los Angeles. These trips were organized by Youth Service Project and jointly sponsored by the Southern Quarterly Meeting of the Religious Society of Friends (Quakers) and the American Friends Service Committee, a multicultural, faith-based, interdenominational organization. Several of the teens had suggested the Center as a viable mission project because they had friends or family with AIDS and wanted to make a difference. "We found that AIDS was something they [the youth] all had in common, regardless of race or ethnic background," says Anthony Manousos of Youth Service Project. Teens prepared food, hosted a talent show, and talked to residents during the day-long trips. "These trips were very moving for our youth because they had a chance to reflect on life and death issues: 'Why are we here? What is life about.' They recognized that some of the people they were ministering to were certainly going to die soon."
Formula for Effectiveness
Like foreign missions, short-term urban missions provide an opportunity for participants to minister to the spiritual and physical needs in a community. Youth missionaries and youth workers live for short periods of time—say one to five days—in inner cities ravaged by poverty, drugs, and other urban ailments. By living among the residents, these Christian teens and adults strive to understand the real life situations faced by the people to whom they minister.
While no two projects are exactly alike, many include some aspect of community improvement, such as constructing new homes or ministering to the basic needs for food, shelter, and clothing. Some include Bible lessons, praise and worship, or other musical elements; others rely heavily on drama to present a message of redemption and hope.
While some people contend that even a day in the urban city can have a long-lasting impact, others are not convinced. Manousos suggests that one way to give short-term urban missions longer lasting effects is to consider serving a community over a period of successive years. "Our youth like change, so we do a lot of different things," says Manousos. "From working on an ecological project to homeless shelters, but I think it's important to have some projects that the group commits to over a long time." Such commitment provides youth groups a chance to have a greater, more stabilizing impact on a community.
Recently on Pastors / Leadership
Have something to say about this article? Leave your comment via Facebook below!
advertise with us
Example: "Gen 1:1" "John 3" "Moses" "trust"
Advanced Search
Listen to Your Favorite Pastors