Youth Pastor Focus: Down Any Road
Lisa Crayton, Youthworker Journal
Friday, April 16, 2004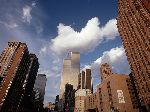 Creatures of Comfort?
One of the greatest advantages of urban missions is that they heighten teens' cross-cultural awareness and sensitivity. Even so, the reality of homelessness, crime, and staggering poverty can be quite disconcerting and upsetting. Some youth groups use pre-trip orientation and extensive prayer sessions to help prepare youth and adults for ministry in the inner city.
Watts, who notes that urban missions are outside of her "comfort zone," explains a major hindrance to cross-cultural ministry: missionary perception. Regarding inner city street evangelism, she says, "I saw them as having so little and they don't necessarily see themselves as that. Once I got over that barrier, ministry was so much easier; they were not wanting me to feel sorry for them but to genuinely love them."
Born and bred in Kentucky, Lisa Beamer wasn't sure what to expect during an urban missionary trip to build homes in Yonkers, New York. Attending her first ever all Spanish-speaking church service was a real eye-opener for Beamer. She says it made her realize how sheltered her life had been up to that point. By the time the service was over and she was enjoying tamales at the fellowship meal, she notes, "I realized how rich life is in many other ways, even for those folks who really didn't have much money or worldly goods."
Counting the Costs
Even small youth groups can get involved in urban youth missions. One option, as Marilyn Yocum points out, is to serve with another church or larger organization such as Youth For Christ. "We partnered with another youth group from a church about 3 hours away, same denomination, that had about 40 kids. The trip was coordinated by Youth for Christ which lined up the service projects, provided the daily teaching/training time, and took care of the housing and feeding of our group," says Yocum.
The financial costs to sponsor an urban youth mission trip can be minuscule compared with foreign trips, and there are many organizations and churches that'll help those students who can't afford it. "Twenty-five dollars can be a lot to some families," notes Youth Service Project's Manousos, adding, "we never turn anyone away."
However, financial cost is not the only consideration. Support from parents and other adults is a key to giving teens a meaningful mission experience. Michelle Pearson, whose daughter Mallory has participated in several short-term urban missions trips, suggests several ways parents can make the urban youth experience more meaningful for their youth missionaries. "Explore all the options available for teen missions," she says. "Talk to the adult leaders. Make sure you know the group's itinerary and get involved as much as possible in your child's training so you can talk to your child about his or her experiences when he or she returns."
Eller agrees. "Support them always. Short-term mission trips have the opportunity to change your teens' whole world. It expands their horizons, both in terms of perspective and of the world around them." Of her daughter Melissa, Eller says, "There is a depth to Melissa that has only come from walking outside of her limited world of school, family, and church. You can't be involved in missions on a regular basis and it not affect you spiritually and in maturity."
Yocum concurs. "Personally, I learned that when you go on a trip like this, you really have no idea what you are signing up for. You just go. You've signed up for 'whatever' and in many ways we should take this attitude toward our everyday lives as Christians. Whatever you have for me today, Lord, count me in!"
Taking the gospel to the inner city requires as much planning, preparation, creativity and follow-up as foreign missions. Count the cost before committing to an outreach. Consider if this is the right season to invest your group's time, talent, and money to urban youth missions. If so, go for it, and expect the unexpected.
---
Lisa Crayton is a freelance editor and writer and a deacon at her church. She writes columns, essays, and features for numerous magazines, e-zines, and Web sites.

The above author bio was current as of the date this article was published.

This article first appeared in the May/June 2001 issue of Youthworker Journal. Used with permission of CCM Communications. For information on how to subscribe to Youthworker Journal, please click here.
Recently on Pastors / Leadership
Have something to say about this article? Leave your comment via Facebook below!
advertise with us
Example: "Gen 1:1" "John 3" "Moses" "trust"
Advanced Search
Listen to Your Favorite Pastors