YouthWorker Journal: International Short-Term Missions
Marshall Allen, Youthworker Journal
Thursday, June 24, 2004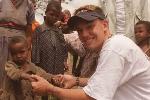 YouthWorker Journal: Wearing helmets and matching black leather jackets, the 28 Desert Angels of Teen Missions International roar through the countryside of Zimbabwe on motorcycles. Under the guidance of veteran missionaries, the American short-term mission team travels to villages demonstrating "drip culture" agriculture and sharing their faith in Jesus Christ through music, drama, puppet shows, and a gospel film.
At the end of the 6-week tour, the Angels' lives have been radically changed. Kids speak of God convicting them of their material wealth and showing them how they could minister to others. And best of all, they estimate that about 700 people have given their lives to Christ as a result of the Desert Angels.
The Desert Angels trip is one of thousands of international short-term mission trips that occur every year. The short-term missions movement is booming more than ever, but it's also coming from a much different paradigm.
"We're Building Kids"
"It's the biggest change in missions in America," says Dr. Sherwood Lingenfelter, dean of Fuller Theological Seminary's School of World Mission. "We have declining numbers in career recruits and an increased number of short-termers."
Lingenfelter believes that the change is in large part due to the fact that the U.S. church has more wealth than ever before, and people no longer view short-term missions as a misuse of funds. Also with professionals available to take care of the logistics, short-term mission trips are easier and safer than ever before.
The obvious difference in the short-term paradigm is the time commitment of the missionary, but there's another fundamental difference in the philosophy that guides many short-term trips. Robert Bland, director of TMI, says that helping the villagers in Zimbabwe wasn't the overriding purpose of the Desert Angels trip.
"We tell our people who are leading our teams that we're building kids, not buildings," says Bland. "The purpose isn't just what we'll do for these people, but what these people will do for us…. There is not a single purpose in missionary work…but to us this is the first purpose."
Kids who go on these trips are often changed, sometimes radically, by the experience; and there are many other positive ways God works through short-term trips. But the emphasis many short-termers place on the life change of the missionary—as more important than the effect on the person being ministered to—is a fundamental shift of philosophy that many think is problematic.
God at Work
A Teen Mania short-term mission team was recently blessed to see the fruit of their mission's efforts in Costa Rica. After they finished their drama presentation, a Costa Rican man approached them and excitedly asked to share his story. Seven years earlier he had been riding his bike through a park when he noticed a crowd. That crowd was watching a Teen Mania drama. He stopped to watch the drama, and that day he met Christ. The man went on to say that he was now serving as a pastor in his local church!
In the summer of 2000 alone, Teen Mania took over 5,000 students on mission trips to 27 countries, usually presenting the Gospel through drama because of the students' language limitations. Jose Cano of Teen Mania admits that it's not always known how audiences respond to their dramas, but their teams do impact the locals who work closest with them.
"I've had translators say, 'I never thought of having a quiet time with God before I started my day until I saw these team members doing it,'" Cano says. "For many of these translators this is the first time to do it [evangelism] in their own country. They say, 'You know what? We don't need Americans to come down here and do this!'"
Cano says that many Teen Mania groups leave the costumes and props from their drama presentations so the locals can continue the work after the teams are gone.
Recently on Pastors / Leadership
Have something to say about this article? Leave your comment via Facebook below!
advertise with us
Example: "Gen 1:1" "John 3" "Moses" "trust"
Advanced Search
Listen to Your Favorite Pastors