Kids, Worship and the Season Called Childhood
Richard Maus, Contributing Writer
Wednesday, March 08, 2006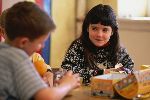 In over 20 years of ministry to kids, I have seen several different moves come and go. I've also seen a few "Christian fads." I have experienced many times of frustration in my ministry over what I felt were unmet expectations with the way children entered into (or didn't enter into) worship. I used to really beat myself up with those frustrations until God began to give me wisdom about the season we called childhood. And so I offer the following in hopes that it will help you in your quest to raise up kids who are worshippers.
Dynamic #1: God's expectations may be different from our expectations. We often do ourselves a disservice when our expectations for the kids may not be what God is expecting from them at all. The Bible tells us in Proverbs 3:12, "Hope deferred makes the heart sick." I've found myself feeling very "unspiritual" or "not really with it" when worship seems not to be happening or is taking place on a very limited basis. I know that many feel the same way.
I'm reminded of one lady that volunteered in our elementary class and seemed very disheartened after only a few times in class. I asked her what was wrong, and she vented her frustration, "Some kids are looking around and just not entering in during worship," she said. It was all I could do to keep my composure in order not to embarrass her. Immediately I thought about the many times I have observed adults in the worship service. Adults are easily distracted, their minds occupied in far away places. Some chomped their gum as though they were in a contest with other gum chompers. Some entered in to worship with all of their heart. Adults will behave like adults. Kids will behave like kids do. She over-spiritualized the way the kids would respond in her own mind before she had really ever participated in a kids' praise and worship service.
I believe she, like so many, had unrealistic expectations. Now, don't get me wrong. To be in children's ministry, you must have a vision and a picture in your heart of what you want to see happen with your kids. My concern comes when what we have in our hearts is something that got there because someone told us of other groups of kids responding in an extraordinary way during worship. We've all heard the stories (and I don't discount the stories) of kids worshipping God with all of their heart, the Spirit of God moving in a unique way that is awesome and exciting. I've witness that kind of worship among children, and it is wonderful. Yet, it is more important to me that I have the heart of God for what He wants to accomplish in our kids, not someone else's.
The problem occurs when we seek for the same experience, yet it doesn't happen. Jesus said that an evil and adulterous generation seeks after a sign. Then when they receive none, they do crazy things to "get an experience." We teach our kids (as our pastor teaches our congregation) that we worship God simply because He is God! If we will worship God, we may have an experience or we may not, but He is still God. Don't let "pie in the sky" thinking put you at a deficit in your goal to raise up worshippers. Remember that it is a process of consistent training.
I once had a parent come to me with a concern about their recently saved child. The child was giving them problems about doing his homework. The parent thought that since he just got saved, he should have a good attitude doing his homework. That is an unrealistic expectation. I've been saved for 23 years, and I still don't like doing my homework. When we realize that kids are not "little adults," we will approach the way we handle worship accordingly.
Dynamic #2: Different seasons of life have different focuses. Think about this: The focus of infancy is survival. The focus of childhood is learning. The focus of adolescence is self. The focus of maturity is reproduction. We should be focusing on the foundational aspects of worship and be less concerned about the results.
Have something to say about this article? Leave your comment via Facebook below!
advertise with us
Example: "Gen 1:1" "John 3" "Moses" "trust"
Advanced Search
Listen to Your Favorite Pastors