Meet & Greet: Steven Curtis Chapman
Tuesday, November 23, 2004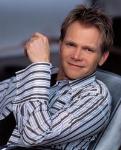 "The only decent art I've ever created has been out of the overflow of my heart."
"Though it's true that most of us tend to be our own worst critics, and that many of us tend to don a bit of false humility when complimented, these words from Steven Curtis Chapman couldn't be more sincere, or—according to him—accurate.
"It's a weird thing that I haven't really figured out yet," Steven explains, "but the times that I have felt the need, creatively and artistically, for a fresh wind to blow in my life, the music has really matched what was going on in my heart."
Listen to song clips from All Things New or buy the album from Songs4Worship.com
"There has been a lot going on in the heart of this accomplished and well-honored artist of late. Not content to rest on his laurels (which include 47 Dove Awards, four Grammy Awards, an American Music Award, two certified platinum and seven gold albums, nine million total albums sold and 41 number one radio hits), Chapman has found himself in a season of renewal at the very time he is being taught and reminded by pastors, authors and friends that the Creator of the universe is continually making all things new.
""I'm scratching my head over this as much as anybody. I have made more records than most artists ever do in their whole career, and I realize what a gift this is. But the truth is, at 41, I've never been more inspired, compelled, excited and passionate about making music as I have been in the last year. The challenge for me was this: If I'm going to write an album about the reality that God makes all things new, that He is the one who will be continually be rolling back the curtain on Himself, revealing more and more of Himself for all of eternity, then I need to do my job as an artist with diligence and with freshness, lyrically and musically."
"Steven says this process started when his voice went out on him about three years ago, bringing much of what he has filled his life and career with to a screeching halt.
"When I lost my voice for three months, I didn't know if I would ever make another record or even sing again, and during that time I read some books that really influenced my thinking. A book called <i>Rumors of Another World: What on Earth are We Missing?>/i> by Philip Yancey started me thinking about the 'Big Story,' where God is revealing Himself in our everyday world. That kind of got the wheels turning early on. Then a friend asked me if I had read John Piper's book Don't Waste Your Life, and I grabbed it on my way to Seattle, read it on the plane, and before the trip was over, had written about eight songs after reading that book. I've been inspired by books before, but never had one open up a thicket in my soul like this one. All those songs didn't end up on the new record, but its themes are certainly represented there ["Big Story," "Much of You"].
"Piper's point is that we are not the point, that the cross reveals God's glory and we are the recipients of His grace, that it might make 'much of Him,' not to make 'much of us.' That notion so disoriented me at first, but then opened my understanding to a deeper level of God's love and mercy in the world. And that made me start wondering when we as God's people go from reaching up (in worship) to reaching out (in what James called 'true religion'). It's not a sense that I have to do this or that or God is going to be disappointed. It's the freedom of understanding that, 'I'm not the point Lord, and the point is to make much of You.' "
"Chapman's response to the challenges of his renewed mind led he and his wife Mary Beth to adopt first one, then another, little girl from China. This July they are adopting their third. Steven says that 'reaching out' in this way, more than any other in his life, has caused him to 'reach in.'
""My pastor was teaching recently on the things that we do in response to the needs around us. James [the Apostle] encouraged believers to care for orphans and widows, and Jesus said as you've done these things to the least of these, you've done them for me. If we do that just because God said so, then that's okay, but the fact is, obeying God in this way changes our lives as much or more as it affects anyone else's.
Have something to say about this article? Leave your comment via Facebook below!
advertise with us
Example: "Gen 1:1" "John 3" "Moses" "trust"
Advanced Search
Listen to Your Favorite Pastors