A Youth Leader's Guide to Money
Keith Cotton
Tuesday, August 21, 2012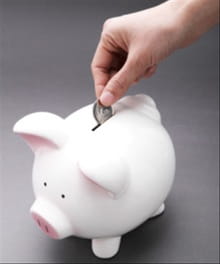 Of course, be aware of spam and the like. More often than not, a deal that's too good to be true is. Does a coupon site look questionable? Google the URL (i.e. "Couponsaver.spamvirusbot.com") and you will find many consumers either singing the site's praises or condemning it to you know where. The same thing applies to coupon codes for your online shopping... 75% of the time you can find a way to save a few bucks.

Buy In Bulk
This one, like using coupons, is great in moderation. You don't want to end up on "Hoarders," but places like BJ's, Costco, and Sam's Club are great for buying stuff you know you'll use a lot (paper towels, laundry detergent, lunch meat). Sometimes, you can even find non-household items like electronics for a lot cheaper than you would elsewhere. Your church may even already have a group membership to a bulk store. Seek permission to use that membership for personal shopping in addition to ministry shopping.

Sell Your Stuff

As I'm sure you're aware, the internet has gradually become one gigantic yard sale (except that on the internet, people aren't usually meandering onto your driveway at 5:00 am). There are people who make their living through EBay. While you probably won't be able to afford a vacation home, there are other benefits to selling your stuff; in addition to making a few bucks, you will be getting rid of junk. That's right, I just called your 17-year-old X-men lunchbox with matching thermos junk (no, it's not a collectible). As the saying goes, one person's junk is another person's treasure. Sites like Craigslist and Amazon have made it super easy to sell your stuff. In fact, with Amazon, you can ship all of your old books, CDs, and movies to them, set your own price, and they will take care of packing and shipping them as they sell (they take a cut from you, but talk about hassle free!).

Become a Moocher

A lot of people in your congregation (or whatever ministry context you are serving in) will be more than willing to help you out. My wife and I had several people give us boxes of children's clothes and toys after we had our first son. When we were looking to buy our first house, we had a realtor from church helping us in our search. When we eventually bought one, he waived a ton of his usual fees.

Don't be afraid to put it out there if you need help with something. Perhaps somebody you know works at a car repair shop and you know they won't charge you $150 to replace a $15 part. While they're helping you, you are supporting their business as well. It's a win-win situation. Actually, I lied about becoming a moocher. Don't do that; moochers are obnoxious, because they only ever take and never give. Remember to be intentional about meeting the needs of others even as you seek help yourself. We are extremely blessed to live in a country where we are paid to be youth leaders. It is not a self-serving occupation, but it can become one when we forget to serve others.

Get a Job

Of course, you already have a job/calling, be it in full, part-time, or volunteer ministry with youth. Whatever your case may be, an additional job could potentially be beneficial to both your personal budget and your ministry. Of course, seek permission from church leadership first, and ensure that your second job is flexible in light of our often wacky schedules. The main benefit to a second job isn't even monetary; you get a chance to be in the world. As weird as it may sound, a ministry job can easily become very isolating from the world-at-large. We spend so much time training and preparing to teach youth about how to be a witness to their unchurched friends, we hardly realize that we don't have any unchurched friends of our own. A part time job can put you right in the trenches of ministry. Whether you wind up engaging co-workers or customers, you get to practice what you preach!

I hope you've found something you can use in this article. I know there have been times where my personal financial situation has made me question my call and affected how I do ministry, and it's my hope that by implementing a few of these tips, you'll be able to refocus on what God has called you to, because despite my questioning, he has always been more than faithful!

What are some things you do to save money? Let me know in the comments below!
Recently on Youth Ministry
Have something to say about this article? Leave your comment via Facebook below!
advertise with us
Example: "Gen 1:1" "John 3" "Moses" "trust"
Advanced Search
Listen to Your Favorite Pastors