Critical Care
Candace Calvert, Author
Friday, June 05, 2009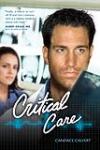 EDITOR'S NOTE: The following is an excerpt from
Critical Care
by Candace Calvert (Tyndale House).
Chapter One
Don't die, little girl.
Dr. Logan Caldwell pressed the heel of his hand against Amy Hester's chest, taking over heart compressions in a last attempt to save the child's life. Her small sternum hollowed and recoiled under his palm at a rate of one hundred times per minute, the best he could do to mimic her natural heartbeat. A respiratory therapist forced air into her lungs.
Don't die. Logan glanced up at the ER resuscitation clock, ticking on without mercy. Twenty-seven minutes since they'd begun the code. No heartbeat. Not once. Time to quit but . . .
He turned to his charge nurse, Erin Quinn, very aware of the insistent wail of sirens in the distance. "Last dose of epi?"
"Three minutes ago."
"Give another." Logan halted compressions, his motionless hand easily spanning the width of the two-year-old's chest. He watched until satisfied with the proficiency of the therapist's ventilations, then turned back to the cardiac monitor and frowned. Asystole—flatline. Flogging this young heart with atropine and repeated doses of epinephrine wasn't going to do it. A pacemaker, pointless. She'd been deprived of oxygen far too long before rescue.
Logan pushed his palm into Amy's sternum again and gritted his teeth against images of a terrified little girl hiding in a toy cupboard as her day care burned in a suffocating cloud of smoke, amid the chaos of two dozen other burned and panicking children.
"Epi's on board," Erin reported, sweeping an errant strand of coppery hair away from her face. She pressed two fingers against the child's arm to locate the brachial pulse and raised her gaze to the doctor's. "You're generating a good pulse with compressions, but . . ."
But she's dead. With reluctance, Logan lifted his hand from the child's chest. He studied the monitor display and then nodded at the blonde nurse standing beside the crash cart. "Run me rhythm strips in three leads, Sarah." After he drew in a slow breath of air still acrid with the residue of smoke, he glanced down at Amy Hester, her cheeks unnaturally rosy from the effects of carbon monoxide, glossy brown curls splayed against the starched hospital linen. Dainty purple flower earrings. Blue eyes, glazed and half-lidded. Tiny chin. And lips—pink as a Valentine cupid—pursed around the rigid breathing tube, as if it were a straw in a snack-time juice box. Picture-perfect . . . and gone.
He signaled for the ventilations to stop and checked the code clock again. "Time of death—9:47."
There was a long stretch of silence, and Logan used it to make his exit, turning his back to avoid another glance at the child on the gurney . . . and the expressions on the faces of his team. No good came from dwelling on tragedy. He knew that too well. Best to move on with what he had to do. He'd almost reached the doorway when Erin caught his arm.
"We've put Amy's parents and grandmother in the quiet room the way you asked," she confirmed, her green eyes conveying empathy for him as well. "I can send Sarah with you, if—"
"No. I'll handle it myself," Logan said, cutting her off. His tone was brusquer than he'd intended, but he just wanted this over with. "We need Sarah here." He tensed at a child's shrill cry in the trauma room beyond, followed by the squawk of the base station radio announcing an ambulance. "There are at least five more kids coming in from the propane explosion. We'll need extra staff to do more than pass out boxes of Kleenex. I want nurses who know what they're doing. Get them for me."
Have something to say about this article? Leave your comment via Facebook below!
advertise with us
Example: "Gen 1:1" "John 3" "Moses" "trust"
Advanced Search
Listen to Your Favorite Pastors