Death by Love
Mark Driscoll and Gerry Breshears, Authors
Thursday, October 09, 2008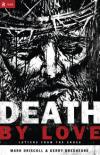 At the cross we see that God deals with sinners through both retribution and rehabilitation. God made us for glory, not sin. Through Jesus' death on the cross, God honors the dignity of our personhood—we are more than animals incapable of good. By dying for us in our place and suffering our rightful punishment, Jesus also satisfies the retributive justice necessary for God the victim. Through Jesus' death, God has secured for us who believe in Jesus the benefit of a new nature empowered by the Holy Spirit that is not only capable of being reformed but eternally guaranteed to be sinless, thereby satisfying the rehabilitative needs of us sinners.
In conclusion, sin affects both God and the sinner, and only through the cross are God and sinners simultaneously served.
Does the bible really speak of substitution, of the Messiah's taking the punishment for my sin in my place?
While this question has already been answered in the chapter, it deserves stressing yet again, because it is vitally important and vehemently opposed.
The Bible says that Jesus died for all, including dying my death for me personally. We've already seen substitution in 1 Corinthians 15:3-4, where "Christ died for our sins" has to mean that he died because of our sins. Similarly, we saw that Jesus took our curse in our place in Galatians 3:13. These are not isolated passages.
For example, 2 Corinthians 5:14-15 says, "For the love of Christ controls us, because we have concluded this: that one has died for all, therefore all have died; and he died for all, that those who live might no longer live for themselves but for him who for their sake died and was raised." Paul's phrase "one has died for all" includes the fact that Jesus died for our benefit. But that does not exhaust the meaning of this text. It also says that Jesus' death is our death, even though we weren't even born yet. The only way Jesus' death can be my death is if he took the penalty of my sin to himself, and in his death he took my place and suffered the death I deserve.
John gives us another clear teaching about substitution. The Jewish leaders were worried that Jesus was going to bring trouble on the people of Israel by claiming to be the Messiah. John 11:48-51 says:
"'If we let him go on like this, everyone will believe in him, and the Romans will come and take away both our place and our nation.' But one of them, Caiaphas, who was the high priest that year, said to them, 'You know nothing at all. Nor do you understand that is better for you that one man should die for the people, not that the whole nation should perish.' He did not say this of his own accord, but being high priest that year he prophesied that Jesus would die for the nation."
Caiaphas wanted Jesus dead so that the people of Israel would not have to die. John's point is that this substitution is actually an unwitting prophecy of the substitution of Jesus taking our penalty in our place.
Also consider Hebrews 9:26-10:12, which makes the same point. There, the author says that Christ has appeared once for all to put away sin by the sacrifice of himself. He was offered once to bear the sins of many. We have been sanctified through the offering of the body of Jesus Christ once for all. After Christ had offered for all time a single sacrifice for sins, he sat down at the right hand of God.
Jesus' death is not a tragedy perpetuated by oppressive Roman soldiers but a self-initiated sacrifice, an offering he came to make. In that offering, he, though sinless, bore or carried our sins. Through his sacrifice, guilty sinners are sanctified or cleansed of sin, defilement, and shame.
God says through his divinely inspired Scriptures that somehow Jesus' death was my death and your death. We were helpless, spiritually dead, and separated from God. Yet, when Jesus died on the cross, his death was somehow ours so that we don't have to be separated from God anymore. We no longer have to be lost in a maze of self-centeredness, living for ourselves. Because Jesus' death was our death, we can live like, with, and for Jesus, spiritually alive and connected to the living God.
Copyright © Mark Driscoll and Gerry Breshears
Published by Crossway Books, a publishing ministry of Good News Publishers
1300 Crescent Street Wheaton, Illinois 60187
All rights reserved. No part of this publication may be reproduced, stored in a retrieval system or transmitted in any form by any means, electronic, mechanical, photocopy, recording or otherwise, without the prior permission of the publisher, except as provided for by USA copyright law.
Have something to say about this article? Leave your comment via Facebook below!
advertise with us
Example: "Gen 1:1" "John 3" "Moses" "trust"
Advanced Search
Listen to Your Favorite Pastors