Death by Love
Mark Driscoll and Gerry Breshears, Authors
Thursday, October 09, 2008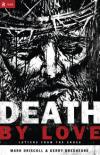 These great images of the priest, slaughter, and scapegoat are all given by God to help us more fully comprehend Jesus' work for us on the cross. Theologically, this is called atonement (at-one-ment); Jesus our God became a man to restore a relationship between God and humanity. This is also what is meant throughout the English Standard Version of the Bible when the word atone and its related variations, such as atoned and atonement, appear nearly one hundred times.
Theologically, the concept of Jesus' dying in our place to pay our penalty for our sins has been expressed in theological shorthand as penal substitution. While the church has always affirmed this aspect of atonement, it was highlighted in the Reformation and in the theologies of John Calvin and Martin Luther.
This aspect of the atonement is under the most vehement attack today by people who do not believe that people are as sinful as they truly are, that God is as holy as he truly is, or that God has chosen an appropriate penalty for sin (death). Curiously, such critics are also commonly known to be the most vocal of hypocrites, simultaneously demanding justice on the earth for the poor, oppressed, and abused, while denying God the same kind of justice that is due him by those people that he created to glorify him with sinless obedience. Nonetheless, Scripture repeatedly and clearly declares that Jesus died as our substitute paying our penalty "for" our sins, as the following examples illustrate:
"He was wounded for our transgressions; he was crushed for our iniquities; upon him was the chastisement that brought us peace, and with his stripes we are healed." (Isa. 53:5)
"He poured out his soul to death and was numbered with the transgressors; yet he bore the sin of many, and makes intercessions for the transgressors." (Isa 53:12)
"[He] was delivered up for our trespasses." (Rom. 4:25)
"But God shows his love for us in that while we were still sinners, Christ died for us." (Rom. 5:8)
"Christ died for our sins." (I Cor. 15:3)
"Christ redeemed us from the curse of the law by becoming a curse for us." (Gal. 3:13)
"For Christ also suffered once for sins, the righteous for the unrighteous, that he might bring us to God." (1 Pet. 3:18)
"He is the propitiation for our sins, and not for ours only but also for the sins of the whole world." (1 John 2:2)
Indeed, the human problem is sin, the divine motivation is holy love, and the death and resurrection of the God-man Jesus is the solution. Consequently, the death of Jesus is the most important event in the history of the world and the crux of how a relationship with God is made possible. Because of this, Christianity is not based upon ideas or philosophies, but rather upon the one man Jesus Christ and the one event of his death by crucifixion. Therefore, we must now examine the final days of Jesus' life leading up to his crucifixion to more fully comprehend that event.
The Substitutionary Death of Jesus
In the days leading up to his death, Jesus was a young man of perhaps thirty-three. He was in good health due to his job as a carpenter and his constant walking of many miles as an itinerant minister. Jesus began speaking openly of his impending death, including at the Passover meal he ate with his friends as their Last Supper. There, he broke with fifteen centuries of protocol. In so doing, he showed that the Passover meal, which God's people had been eating annually, found its ultimate fulfillment in him. The Passover memorialized the night in Egypt when in faith God's people covered the doorposts of their home with blood so that death would not come to the firstborn son in their home but would rather pass over them (Exodus 6-12). Jesus, the firstborn Son of God, likewise had come to die and cover us with his blood so that God's just wrath would literally pass over us sinners as the essence of the new covenant (Luke 22:19-21).
Have something to say about this article? Leave your comment via Facebook below!
advertise with us
Example: "Gen 1:1" "John 3" "Moses" "trust"
Advanced Search
Listen to Your Favorite Pastors