Death by Love
Mark Driscoll and Gerry Breshears, Authors
Thursday, October 09, 2008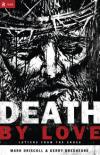 Jesus was then lifted up, and his cross dropped into a prepared hole, causing his body to shake violently on the spikes. In further mockery, a sign was posted above Jesus that said, "Jesus of Nazareth, the King of the Jews" (John 19:19). A painting later discovered from a second-century Roman graffito further shows the disrespect of Jesus at his crucifixion. The painting depicts the head of a jackass on Jesus' body being crucified, with a man standing alongside of it with his arms raised. The caption reads, "Alexamenos worships his god."
At this point during a crucifixion, the victims labored to breath as their body went into shock. Naked and embarrassed, the victims would often use their remaining strength to seek revenge on the crowd of mockers who had gathered to jeer them. They would curse at their tormentors while urinating and spitting on them. Some victims would become so overwhelmed with pain that they would become incontinent, and a pool of sweat, blood, urine, and feces would gather at the base of their cross.
Jesus' crucifixion was a hideously grotesque scene. Hundreds of years in advance, the prophet Isaiah saw it this way: "He was despised and rejected by men; a man of sorrows, and acquainted with grief; and as one from whom men hide their faces he was despised, and we esteemed him not. Surely he has borne our griefs and carried our sorrows; yet we esteemed him stricken, smitten by God, and afflicted" (Isa. 53:3-4).
In addition to the horrifying spectacle of the crucified Jesus, Isaiah also saw his silent response: "He was oppressed, and he was afflicted, yet he opened not his mouth; like a lamb that is led to the slaughter, and like a sheep that before its shearers is silent, so he opened not his mouth" (Isa. 53:7).
Rather than reviling his mockers or declaring his innocence, Jesus chose to die with his masculine dignity intact. He spoke seven last words from the cross. These words provide great insight into the final thoughts of Jesus and his purpose for dying.
First, Jesus said, "Father, forgive them, for they know not what they do" (Luke 23:34). Jesus' first word is a word of forgiveness for the very people who are murdering him. He knew that in a moment he would die to atone for their sins, including the sins they were presently committing against him. In this we see the utter selflessness of Jesus and his unbroken devotion to saving even the worst of sinners through the cross.
Second, Jesus said to one of the thieves being crucified at his side, "Truly, I say to you, today you will be with me in Paradise" (Luke 23:43). Jesus' second word is a word of salvation. Jesus was about to die to atone for that man's sins and open heaven as a gift for him to enjoy as the pattern for all who would come to trust in Jesus for salvation.
Third, Jesus said to his mother, Mary, and his best friend, John, "Woman, behold, your son! . . . Behold, your mother!" (John 19:26-27). As Jesus looked down from his cross, he saw his loving and godly mother, Mary, who was undoubtedly distressed at the sight of her eldest son. Worried for his mother, Jesus' third word appoints his closest friend, John, to look after his mom and care for her like a son and a pastor in his place. Again we see the absolute selflessness of Jesus—his first three words are devoted to his murderers, a thief, and his mother, without yet speaking of his own great needs.
Fourth, Jesus said, "I thirst" (John 19:28). Jesus' fourth word confirms that he humbly suffered as a human being and experienced all of the same physical pain and hardship as anyone in his place would have suffered. Jesus did not do anything to take a divine shortcut or ease his very real physical anguish. Shockingly, the God who created water desperately needed a cup to quench his own thirst and was denied that simple pleasure.
Fifth, remaining a Bible teacher to the end, Jesus quotes Psalm 22:1, saying, "My God, my God, why have you forsaken me?" (Matt. 27:46). At this moment, Jesus died spiritually; the eternal communion he shared with God the Father and God the Spirit as the one Trinitarian God in three persons was broken as their backs were metaphorically turned on Jesus. It was in this moment that our sin was laid on the sinless Jesus (Isa. 53:6),and three hours of darkness came upon the earth, giving the ominous impression that the dominion of darkness had in fact conquered Jesus.
Have something to say about this article? Leave your comment via Facebook below!
advertise with us
Example: "Gen 1:1" "John 3" "Moses" "trust"
Advanced Search
Listen to Your Favorite Pastors