Real Simplicity
Rozanne & Randy Frazee, Authors
Wednesday, May 11, 2011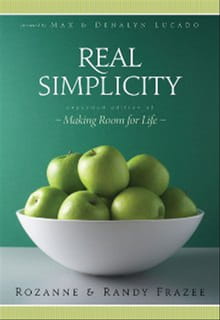 EDITOR'S NOTE: The following is an excerpt from Real Simplicity by Rozanne & Randy Frazee (Zondervan).

Chapter 1
Crowded Loneliness
Managing Too Many Worlds
Consider the average day of a typical middle-class family in America. The family rises at 6:00 a.m. Everyone fends for himself or herself for breakfast, while Mom unloads the dishwasher — mostly glasses, since a home-cooked meal hasn't happened for several weeks now. She quickly
puts together lunches for the boys and throws the baseball uniforms — washed last night before she went to bed — in the dryer. Dad heads out at 6:45 to beat the 7:00 traffic. His normal commute without excessive traffic is forty-five minutes. Mom and the two children are out the door by 7:15 (usually someone is a little cranky). Mom drops off her elementary-age sons at school by 7:40. Twenty minutes later she arrives at her workplace.
At 3:30 p.m. the children are done with school and enter an afterschool program. Mom skips lunch so she can rush out of the office to pick up the kids by 5:00. She runs through the bank teller window and stops at the grocery store on the way home, since before leaving home she had noticed they were running low on milk. She arrives home at 5:45. Fifteen minutes later one son has baseball practice. With barely enough time to get the milk in the fridge, she gets both kids back in the car and rushes to make it to the practice field on time. The other son has a game at 8:00. She calls her husband on the cell phone while taking her son to baseball practice to make sure he can grab the second child at the field and get him to his game by 7:30.
Dad leaves the office at 6:00 p.m., unsuccessful in his efforts to make it through his to-do list. Traffic is now an issue. The forty-five minute commute stretches into an hour and fifteen minutes. He arrives at the practice field at 7:15 with all the signs of road stress. He kisses his wife, waves to his son in center field, whooshes the second son into the SUV (a mere $700 a month), and heads to the game field about fifteen minutes away. Son #1 finishes practice at 7:30, and he and Mom head for home. On the way they stop at Taco Bell for dinner. They arrive home at 8:00. The boy turns to video games while Mom starts another load of laundry and checks the e-mail.
Meantime, the baseball game gets started a little late and doesn't end until 9:45 p.m. Dad is still in his business casual clothes, but he does appreciate the forced break to watch his son play ball. On their way home they make a quick stop at the McDonald's drive-in window. They arrive home at 10:30. Once in the house, son #2 reveals that he hasn't finished studying for the math test he's supposed to take tomorrow.
After forty-five minutes of shoving facts into her son's short-term memory while he inhales a McDonald's "Happy" Meal, Mom sends him to bed. It is now 11:15 p.m. Time for bed. Mom and Dad flop into bed, dead tired. They watch a little television; exchange a few words — mostly action items for the next day — and then lights go out. Mom falls asleep as soon as the lights are out. Dad, on the other hand, doesn't. He lies there thinking about all the things that must be done. He knows he needs to sleep, so he gets up and swallows a sleeping pill. It seems to be the only way he can get a good night's sleep lately. It bothers him a little, but he doesn't see any alternative. Tomorrow promises more of the same. Things seem a little harried and out of hand, but the following assumptions keep the family from making any changes:
Everyone lives this way.
This is a privileged life that can only be maintained with hard work and discretionary money.
Things will even out soon. This is just a temporary season of busyness.
Maybe this mirrors your life. The activities may be different, but the movement and noise are the same. The initial thought is that the more financial resources you have, the more likely you are to have a stress-free, relaxing life. In reality, though, studies show that with increased resources comes increased complexity, not simplicity. If they aren't especially careful, the ones who have more actually have more with which to destroy themselves.
Recently on First Chapters
Have something to say about this article? Leave your comment via Facebook below!
advertise with us
Example: "Gen 1:1" "John 3" "Moses" "trust"
Advanced Search
Listen to Your Favorite Pastors