Real Simplicity
Rozanne & Randy Frazee, Authors
Wednesday, May 11, 2011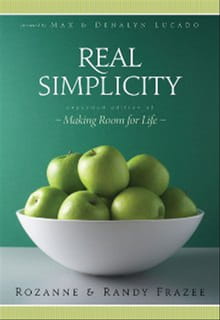 Maybe you can relate to the cartoon caption below. Can you think of how many times you've made a resolution to do something about busyness and stress in your life only to find nothing really changing? Noise and movement make up so much of our lives that we don't know how to effectively stop when a little R & R is attempted. There is among Americans a common illness called "leisure sickness."1 This malady manifests itself in several forms, such as flulike symptoms, headache, sore throat, and muscle aches. Essentially, our bodies and emotions are so stressed out during the week that in the evenings and particularly on the weekends we fall apart. The only prescription for this social fever is a change in lifestyle.
I am a pastor in a large church, a husband, and the father of four children. The opportunities to send myself into the "rubber room" of insanity abound. Preparing sermons, managing staff, meeting parishioners' expectations, tending to constant changes that need to be implemented, spending time with family, paying individual attention to each of my children, having individual time with my wife, exercising, staying in touch with my extended family, helping with science projects, going to children's sports events — the list goes on and on. I don't know how many times people have approached me with the words "I'm concerned about you; you have too much to handle." I think I lived so long under extreme stress that I lost sense of what was happening. It had become routine and normal. This is a scary place to be.
So the impetus for my initial search for connectedness or community was not a need to prepare a sermon or write a book but a need for personal sanity. I knew I couldn't obtain connectedness by increasing my speed or extending my hours of work. King Solomon tried it about three thousand years ago and found out that it doesn't work. I'm nowhere close to being the smartest guy in the world, but I'm smart enough to listen to the world's wisest person.
I needed something fresh, something deeper. I also had a sense of urgency. Several years ago as my daughter approached her sixteenth birthday, I realized I wouldn't have much more time with my children, and I didn't think my health would hold out under the daily pressure I was voluntarily inflicting on it. At the same time I didn't want my life to be meaningless. I didn't want to retire from life and sit in the back- porch rocker watching little birds suck juice out of a jar. I've always lived with a strong sense that God has a calling on my life, that he has something for me to accomplish. But I needed to find some balance and establish some boundaries. Certainly a big part of what God has for my life is what I can become as a person in Christ — not just what I do for Christ.
The solutions to my dilemma were rooted in God's Word, coupled with the common sense of sages who have gone before us. It has rescued me from a life of running on a hamster's wheel, a life of motion without meaning.
Managing Your Relationships
Let's begin our journey together with some self-discovery. Grab a pen or pencil and a piece of paper. Now look at the following illustration.
The individual in the center represents a person who is trying to make more room for life. Each of the smaller circles represents a relationship that they manage. They may invest time daily in a particular relationship, or only a few times a year. Think about your life and the various relationships you manage, and draw a circle for each.
When you've completed this, go back to each circle you have drawn and ask yourself the question, "Is that really one relationship group, or are there more worlds within each circle that are managed separately?" For example, if you have more than one child, do they go to the same school? If not, then you need to draw a separate circle for each school. If you are married, does your spouse work? If you don't both work at the same place, then you need to draw an additional circle representing this separate relationship. If you have children, are they involved in sports? If so, are they involved in multiple sports like soccer, baseball, and volleyball? What about music lessons? How about extended family? You should already have a circle representing your family and another circle representing your spouse's family. Do they all live in the same town, or are they spread throughout different states? If they are in different cities or states, then you need to draw a circle for each one. Are you in a blended family situation? If there is joint custody, then you need to draw a circle for each relationship. How about your hobbies? Maybe you have a group you golf with and a group you play cards with. Draw a different circle if these are not the same people. What about past friends you try to maintain contact with — college friends, friends you had in other places you lived, and so forth?
Recently on First Chapters
Have something to say about this article? Leave your comment via Facebook below!
advertise with us
Example: "Gen 1:1" "John 3" "Moses" "trust"
Advanced Search
Listen to Your Favorite Pastors