Tea with Hezbollah
Ted Dekker and Carl Medearis, Authors
Thursday, February 18, 2010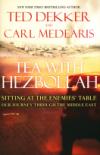 Surrounded by the aroma of food in the safety of a Hard Rock Cafe, Carl and I toasted the ideal travelogue. Assuming it could come together, of course. Little did we know what trouble we were inviting.
First, what this book is not: This is not a religious book that seeks to correct anyone's misguided beliefs, Christian or Muslim. This is not a political book that undermines any one ideology. And it certainly is not a historical narrative that pretends to revise any previous work by far more qualified historians.
Rather, this is a travelogue, albeit one with some fairly major twists.
In the pages that follow we will trace our journey of discovery through the heart of the Middle East with some simple questions for some unique and influential personalities whom most in the United States, including the government, think of as enemies who belong on Most Wanted lists.
We will ask ourselves whether anyone is interested in loving his neighbor. Whether, for that matter, it's even possible to follow this scandalous teaching.
Along the way we will wander through the corridors of little-known history in Egypt, Baalbek, Damascus, and Jerusalem to see just how the teaching of love has fared among enemies over the centuries.
And with each step we take we will seek the Good Samaritan, both figuratively and literally, because we've learned that there are still roughly seven hundred Samaritans alive today.
But as much as these, this is the story of the mastiff and the puppy, boldly and not so boldly going where few have tread. It is the story of fear and misunderstanding, of ignorance and pain, and, above all, it is a story of love.
"Right," I said, peering out the window as the jet banked toward the streets of Beirut lined with tanks below us. "Right," I repeated hopefully. But it didn't feel right.
Carl leaned over. "Streets look deserted. Sophie says there are two tanks guarding the house we're staying in."
"We need tanks? Why's that?"
As we arrived at Samir's house we saw the two tanks stationed outside the building. When we asked why, Sophie said it was for security reasons.
"We're staying with her? What happened to the Marriott?"
"Naw, man. We're their guests—that would be rude. Besides, this will make it more real for you."
I turned back to the window and swallowed, in desperate need of distraction. Maybe I should have bought the Tumi luggage after all.
THE PARABLE OF THE SAMARITAN
On one occasion an expert in the Law stood up to test Jesus. "Teacher," he asked, "what must I do to inherit eternal life?"
"What is written in the Law?" he replied. "How do you read it?"
He answered: " 'Love the Lord your God with all your heart and with all your soul and with all your strength and with all your mind' and 'Love your neighbor as yourself.' "
"You have answered correctly," Jesus replied. "Do this and you will live."
But he wanted to justify himself, so he asked Jesus, "And who is my neighbor?"
In reply Jesus said: "A man was going down from Jerusalem to Jericho, when he fell into the hands of robbers. They stripped him of his clothes, beat him, and went away, leaving him half dead. A priest happened to be going down the same road, and when he saw the man, he passed by on the other side. So too, a Levite, when he came to the place and saw him, passed by on the other side. But a Samaritan, as he traveled, came where the man was; and when he saw him, he took pity on him. He went to him and bandaged his wounds, pouring on oil and wine. Then he put the man on his own donkey, took him to an inn, and took care of him. The next day he took out two silver coins and gave them to the innkeeper. "Look after him," he said, "and when I return, I will reimburse you for any extra expense you may have."
"Which of these three do you think was a neighbor to the man who fell into the hands of robbers?"
The expert in the Law replied, "The one who had mercy on him."
Jesus told him, "Go and do likewise."
Recently on First Chapters
Have something to say about this article? Leave your comment via Facebook below!
advertise with us
Example: "Gen 1:1" "John 3" "Moses" "trust"
Advanced Search
Listen to Your Favorite Pastors