The Ambition
Lee Strobel, Author
Monday, July 11, 2011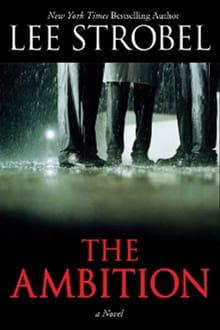 EDITOR'S NOTE: The following is an excerpt from The Ambition by Lee Strobel (Zondervan).
Chapter One
As he walked toward the metal detector in the lobby of the Cook County Criminal Courts building, Tom O'Sullivan's heart pounded so hard and so fast and so loud that he was almost afraid a sheriff's deputy would hear it. Or that someone would notice the sweat on his upper lip. Or that a security guard's suspicion might be aroused by his awkward smile, a rather transparent attempt to act naturally.
Through the years, Thomas Ryan O'Sullivan III, attorney at law, had entered the squat, concrete building on Chicago's West Side countless times to defend drug dealers and second-rate thugs charged with felonies. But this time was different; today this scion of a oncepowerful political family was coming to commit an egregious crime of his own.
A sheriff's deputy picked up Tom's attaché case from where he'd dropped it on a table for inspection. The deputy made brief eye contact with him; there was a glimmer of recognition, and the officer didn't even bother to open the case. Tom had counted on the fact that attorneys warrant only casual attention from the security force, especially frequent visitors like himself.
"G'morning, counselor," the deputy said with a nod, handing Tom the briefcase after he emerged from the metal detector. Tom didn't linger. "Have a good one," he said, grabbing his case with one hand and scooping his watch and car keys from the plastic container with his other. He turned and walked briskly toward the elevator. His footsteps echoed loudly in the cavernous hall, and he forced himself to slow down.
Is the deputy still watching me? Should I have shot the breeze for a few minutes? What about the security cameras — will anyone watch where I'm going?
Reaching the elevator, Tom glanced back toward the entrance. The deputy was busy patting down a defendant who had arrived for trial. Tom sighed deeply, shoved his personal effects into his pocket, and pushed the call button. He took out a handkerchief and dabbed at the perspiration from under the modest wave of reddish-brown hair that swept across his forehead.
How many times, he wondered, had his father dispatched thugs — the kind Tom usually represented — on clandestine missions like this? It was the first time he had ever allowed himself such a thought. He preferred to remember his dad the way he saw him while growing up — powerful, connected, warranting universal recognition and admiration.
He tried to suppress memories of the way his father's life ended — the dishonor and ignominy, their entire family buried in humiliation. And now, here he was, wallowing in the same corruption — the last place he ever expected to find himself.
More than anything, Tom wanted to run, to hide, to escape, to call off everything. But he knew he had no choice. And in a twisted way, that provided some comfort. The decision had been made. There could be no backing out. The consequences of abandoning his assignment went beyond his imagination.
He gave his lapels a yank to straighten out the gray pinstripe suit. The only thing he could do at this point was to concentrate on not getting caught.
Garry Strider threw himself into a maroon vinyl booth at Gilke's Tap. "The usual," he called over to the bartender. "Just keep 'em coming, Jerry."
Recently on First Chapters
Have something to say about this article? Leave your comment via Facebook below!
advertise with us
Example: "Gen 1:1" "John 3" "Moses" "trust"
Advanced Search
Listen to Your Favorite Pastors