The Pawn
Steven James, Author
Tuesday, November 27, 2007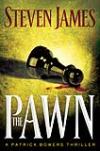 "Trying to be."
"Well, you heard about what's going on down here?"
"Yeah." I followed the postings of all the major cities' crime labs and FBI listings. Occupational hazard. I was a regular VICAP junkie—the Violent Criminal Apprehension Program is a way to track crimes across jurisdictions, so I'd read about the murders. Even the details they weren't releasing to the public. There'd been at least five so far, just since April.
"You found another one," I said.
"Yeah. Some hikers stumbled across her about an hour ago. We're out at the site now, and, well, I could email you some stuff, but I gotta say, I could use your eyes over here. There's got to be something we're missing. The signature is the same. It's the same guy, Pat. The press is calling him the Yellow Ribbon Strangler."
Ralph knew that I hated when the press got involved. I'd looked at my watch: 4:02 p.m.
"I don't know, Ralph ..."
"I can have a chopper over there to pick you up in twenty minutes. You'll be back at your hotel tonight. That's why I could use your eyes right now. Supposed to be some more storms coming through, and I don't want to miss anything here. What do you say?"
And I'd said yes.
Because I always say yes.
"Email me the photos your men took at the other crime scenes," I said, "and video if you have it, and I'll look them over on my way down."
And now, less than two hours after giving the keynote address to 2,500 law enforcement professionals and intelligence agency personnel from around the world, I was on a chopper to meet Ralph and look at the body of another dead girl.
I scrolled through the crime scene pictures on my laptop. Even though I try to stay detached, the images still bother me. They always have. Probably always will.
I glanced out the window. The shadow of the helicopter skirted over a road and hovered for a moment above a parked car on a scenic overlook. A man and a woman who were standing beside the guardrail didn't seem to notice the shadow. They just kept staring at the sprawling mountains folding back against the horizon, totally unaware that a shadow was crawling over them. Totally unaware.
The killer hadn't made any attempt to hide the bodies. Whoever was killing these women wanted them found. After all, there were plenty of places in the hills of western North Carolina to hide a body forever. Or a person. The serial bomber Eric Robert Rudolph had hidden here for five years during one of the biggest manhunts in history and was only caught when he wandered into town to scavenge food from a dumpster behind a grocery store. No, our guy wasn't into hiding; he was into flaunting. And there was something else. Something that hadn't been released to the public. Something very disturbing. Which was why Ralph had called me.
I leaned forward and yelled to the pilot, "How much longer?"
He didn't answer, just pointed at a nearby mountain and tipped the LongRanger toward a clearing.
I closed up my computer. It was time for Patrick Bowers to go to work.

Taken from The Pawn by Steven James. Used by permission of Fleming H. Revell, a division of Baker Publishing Group, copyright © 2007. All rights to this material are reserved. Materials are not to be distributed to other web locations for retrieval, published in other media, or mirrored at other sites without written permission from Baker Publishing Group.
Critically acclaimed author Steven James is one of the nation's most innovative storytellers. Since developing his skill as a performer at East Tennessee State University (MA in Storytelling), he has spoken more than 1,500 times throughout North America, Europe, and Asia. Now harnessing his ability to build suspense with his vivid imagination and evocative writing, Steven is launching his first series of high-octane thrillers, the Bowers Files. Steven lives with his wife and daughters in the hills of Tennessee.
Recently on First Chapters
Have something to say about this article? Leave your comment via Facebook below!
advertise with us
Example: "Gen 1:1" "John 3" "Moses" "trust"
Advanced Search
Listen to Your Favorite Pastors