"He's to Blame" for Bringing The Voyage of the Dawn Treader to Film
Laura MacCorkle, Crosswalk.com Senior Editor
Monday, November 22, 2010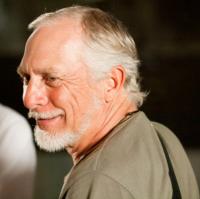 When describing his role as executive producer of the new film, The Voyage of the Dawn Treader, Douglas Gresham sums it up with three words: "He's to blame."

He laughs while quoting one of the producers of the film who gave this answer when asked what Gresham's role was while on set. Of course, on one hand it's said in jest. But on the other it is so very true. As the stepson of prolific author C.S. Lewis, Gresham is the one who is responsible for all three of the Narnia major motion pictures that have made it to the big screen since 2005: The Lion, the Witch and the Wardrobe, Prince Caspian and next month's Fox 2000 Pictures/Walden Media release, The Voyage of the Dawn Treader.

A self-described "complete and utter Narnia fanatical purist," Gresham says he's thoroughly enjoyed his experience bringing the books to film. And really, who best to do so than someone who had a close personal relationship with the series' creator who he casually refers to as "Jack."

Of course, we know him better as C.S. Lewis, the creator of "Narnia" and novelist who endeared himself to so many of us as children (and still as adults) with his beloved book series, The Chronicles of Narnia.

I talked with Gresham recently to ask about his experience making a movie of The Voyage of the Dawn Treader, to see if he thought the character Eustace Scrubb was bratty enough in his portrayal on-screen and to find out if there might be any future Narnia films on the horizon. …


---

This is your third time out with a Narnia film. But even so, is it sill thrilling to see The Voyage of the Dawn Treader on the big screen?

Absolutely! I enjoy making these movies enormously for the most part. I spent the whole of the shooting time actually on set this time. I enjoy it enormously. This is a tough job. There's a lot of work involved, but at the same time it's a blessing for me to get to do it.

What was a typical day for you like on set? Walk us through it, if you will.

A typical day … well, I'd get up around 4:30 or 5:00 in the morning and I'd start doing my e-mails, and I'd get halfway through them by I guess 9:00 or something like that. Most of the makeup and costuming would be done by then and people would be creeping onto the actual sets themselves to start work and the camera and edit groups and everyone would be in place. I would sit behind a set of monitors, watching everything that happened and commenting sometimes and making a nuisance of myself which seems to be my focus in life most of the time. And I would watch it all happen, and then we would go on to lunch. I would go into my motor home and continue with my e-mails and then during the afternoon be back on set and then when it all stopped in the evening—sometimes quite late depending on how our schedules were running—I'd go back and finish my e-mails for the day, cook myself something to eat and go to sleep.

That's a lot to pack into one day! What made you want to be on the set for this film and not with the first two?

Well, I wanted to with the others. I was just too busy doing other things. I wanted to spend as much time as possible on the set with the others. And I did, several times, in each case. I was extremely busy with other projects and different bits and pieces at the time. During the first film, I was still running our ministry—a psychotherapy and counseling ministry in Ireland. But when it came up with this movie, I actually could spare the time to get away and take all my electronic gizmos with me so I could do most of my work in the motor home and could be there—which I enjoyed enormously.

Besides being on the set, what other responsibilities have you had as executive producer of The Voyage of the Dawn Treader?

I'm not anything like an ordinary executive producer, I suppose. In a sense I'm a kind of a gadfly. I'm the guy who looks at everything to make sure that everything stays Narnian and as true as possible to the book and so on. So I'm really making a nuisance of myself to the other producers and director. That's what I do best. Mark Johnson, one of our producers who actually works with us on these movies, put it very succinctly when we were making maybe the first movie. I was in Prague in the Czech Republic and the American ambassador to the Czech Republic was visiting the set. And Mark brought him over to introduce him to me on set, and he said, "Well what does Mr. Gresham do for the project?" And Mark said, "Oh, he's to blame." And that about sums it up really, I guess.

How early did you get involved with the production—when the script was being developed or were you involved before then?

I am in the process from before the script begins being developed. This whole thing, all of these Narnian movies, is my project in the first place. So that's what Mark meant went he said "he's to blame." I sort of kicked it off and started it and decided we'd have a war like a king does. We'll have a war now, and we'll make a movie now. That kind of thing. Really I'm involved in just about every facet in the making and the production of the movie and then again, of course, with the promotion of the movie as we're doing today.

Can you give an example of something in the adaptation of The Voyage of the Dawn Treader that you took issue with or fought for or didn't want changed from book to screen?

Well there are so many. Always when you translate a book from the sort of medium of print into a movie, you're going to have to make changes. What happens in these things is that there's a sort of group of people—almost an informal committee—that decide what to do and what to put into the screenplay and so forth. And being a complete and utter Narnia fanatical purist, any comma they moved to me is an anathema. So I argue pretty strongly for what I believe in. And we always come to a compromise situation. So there are always things that I would rather not have done, and there are always things the director probably would not have done. And he's moved in my direction, and I've moved in his. This is the sort of cooperative process in making a movie from a book. And I think it probably doesn't infringe on people's consciousness when they see the movies as much as it does on mine when I'm actually making the movies. I work very hard to make my points and some of them are understood and some of them are not and so forth. But we always work as sort of a team to eventually come out with something that results in usually a first-class film.

Do you think C.S. Lewis would approve of The Voyage of the Dawn Treader's leap from page to screen and the end result?

I'm very wary of ever saying of how Jack would think about things. Of course he died in 1963, and he hasn't had the 50 so or years of life to change his attitudes as I've gone through. So I'm not prepared to say what Jack would think or would not think. I'm prepared to say if he had watched what we had done with Aslan and Reepicheep and characters like this on-screen, he would be utterly thrilled. His great fear was that the Narnia Chronicles would be done sometime in cell animation, in a cartoon type way and he hated that. And so I'm very, very happy that we've been able to do it in such absolute realism. I mean that lion walking around the screen could be a real lion in the zoo. And I'm very glad we've been able to give him the majesty and dignity that he needs. And the same with Reepicheep and the other animal characters from Narnia. I think Jack would absolutely love what we've been able to do there.

Was there a time when anyone was trying to get these films made in that cell animation type of way?

Yes, of course, there was a time. But I've been trying to make these movies since long before this modern technology of computer generated imagery even existed. And there were people who came up with ideas that I said "no" to. I think the Holy Spirit of God held this whole process up until the technology had been developed sufficiently to do it justice.

What is your favorite scene in The Voyage of the Dawn Treader?

Well, without a doubt, my favorite scene in this film is the ending of it. It's one of the most moving and beautiful scenes ever put on-screen. I think everybody will find it the same way.
Have something to say about this article? Leave your comment via Facebook below!
advertise with us
Example: "Gen 1:1" "John 3" "Moses" "trust"
Advanced Search
Listen to Your Favorite Pastors