Vintage Church
Mark Driscoll and Gerry Breshears, Authors
Tuesday, April 07, 2009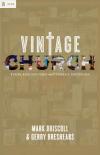 EDITOR'S NOTE: The following is an excerpt from
Vintage Church: Timeless Truths and Timely Methods
by Mark Driscoll and Gerry Breshears (Crossway).
CHAPTER ONE
WHAT IS THE CHRISTIAN LIFE?
Therefore, as you received Christ Jesus the Lord, so walk in him.
Colossians 2:6
Jesus. If one word were to be chosen as the most important word in the history of the world, it would be the name Jesus.
God preached the first gospel to our parents, Adam and Eve, shortly following their sin in Genesis 3; he promised that Jesus would come. From that day onward, God inspired his prophets to reveal in great detail the events surrounding the coming of Jesus.1 Consequently, for roughly a few thousand years God's people longed for Jesus' arrival.
Jesus came into history in the most humble manner. He was born roughly two thousand years ago in a barn to a poor, young virgin woman named Mary. Although he was God, Jesus' first earthly throne was the feeding trough of an animal, which was used for his crib.
Jesus' unparalleled humility is one of his most shocking attributes.2 Our culture believes that pride is our greatest friend although it is the reason why Satan himself was kicked out of heaven. Pride covets the success of others and is about self—my glory, my arrogance, and my independence. Our culture, tragically, considers pride a virtue rather than a vice. Conversely, Jesus came in great humility and lived his life in great humility. Before repeatedly and emphatically declaring himself to be God,3 Jesus spent the first roughly thirty years of his life in relative obscurity in a humble town with humble parents working a humble job as a carpenter.
Theologians use the word incarnation as shorthand to explain the coming of the second member of the Trinity into human history as the man Jesus Christ. Incarnation is taken from the Latin translation of John 1:14 and literally means "becoming flesh." The word speaks of Jesus' humility in temporarily forgoing being worshiped by angels as God in glory to come instead on a mission to glorify God in heaven and save sinners on the earth.4 In 451 the Christian Council of Chalcedon confirmed the biblical position regarding the divinity and humanity of Jesus that remains the accepted doctrine of Protestant, Catholic, and Orthodox Christians alike, despite their other differences. Using the phrase "hypostatic union," they rightly declared that Jesus was one person with two natures, human and divine. Jesus is both fully God and fully man, or as the Bible says, "Immanuel," which means God with us.
As God who became a man, Jesus came to fully identify with our humanity and serve as the mediator between us and God to deal with our sin problem and reconcile us back to God.5
Significantly, Jesus lived his sinless life on the earth in large part by the power of the Holy Spirit. This does not mean that Jesus in any way ceased to be fully God while on the earth, but rather that he humbly chose to limit the continual use of his divine attributes. Thus, he lived as we must live—by the enabling power of God the Holy Spirit. We want to be clear: Jesus remained fully man and fully God during his incarnation, and he maintained all of his divine attributes and did avail himself of them upon occasion, such as to forgive human sin, which God alone can do.6 Nonetheless, Jesus' life was lived as fully human in that he lived it by the power of the Holy Spirit.7
As the church father Augustine rightly said, by becoming a man Jesus did not lose anything; rather, he added humanity to his divinity. Echoing this point, Bruce Milne writes, "The biblical equation is . . . incarnation = God plus. In becoming incarnate the divine Word did not relinquish his deity; he added to it, if one may so speak, by taking a full human nature into hypostatic union with the Word."8
Have something to say about this article? Leave your comment via Facebook below!
advertise with us
Example: "Gen 1:1" "John 3" "Moses" "trust"
Advanced Search
Listen to Your Favorite Pastors