Vintage Church
Mark Driscoll and Gerry Breshears, Authors
Tuesday, April 07, 2009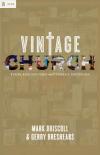 The three dimensions of the Christian life are confession, experience, and mission. These dimensions are like the three legs of a stool on which you can sit solidly when you want to know that you are a Christian forgiven of sin, regenerated, and adopted as a child of the Most High God.
The first leg is confession. Being a Christian means that you "confess with your mouth, that Jesus is Lord and believe in your heart that God raised him from the dead" (Rom. 10:9). Ask yourself, "Am I trusting the truth of the gospel?" To help you answer this question, you may also want to reread chapter one and discuss it with a pastor or Christian friend.
Many people emphasize the moment when you prayed to accept Jesus. Some go so far as to declare that if you can't remember the moment you prayed, then you cannot even be a Christian. But if you look in the Bible, that kind of statement is never made. Conversely, 1 John 5:13 says, "I write these things to you who believe in the name of the Son of God that you may know that you have eternal life." It is real belief and not a magical prayer that saves a Christian. In fact, many who grew up in Christian homes never remember a time when they prayed a prayer or made a decision for Jesus, but they lovingly confess Jesus all the same.
The second leg is experience. A Christian experiences life change. Practically, this means that it is important for you to prayerfully examine yourself looking for evidences of God's Spirit-guided work in your life (John 14:26; 16:13; 1 Cor. 2:10). Do you see evidences of a new heart, a yearning to be like Jesus? Do you want to be with other believers in Jesus, as they "devote themselves to the apostles' teaching and the fellowship, to the breaking of bread and the prayers" (Acts 2:42)? Do you find that you wish you could stop doing sinful things? When you see these things, you are experiencing the fruit of "the washing of regeneration and renewal of the Holy Spirit, whom he poured out on us richly through Jesus Christ our Savior" (Titus 3:5–6).
The third leg is mission. Are you beginning to enjoy living a life in obedience to Jesus? Do you find that you want to join his rescue mission in the world? Do you want to help others to find forgiveness for their sins and healing for their brokenness? Do you want to help stop evil? Do you want to seek the welfare of the city in which you live? If so, then, as a Christian, you are becoming a missional follower of Jesus.
If you aren't quite sure whether you are a Christian, it will be helpful to find someone to speak with. Prayerfully seek out someone who lives for Jesus and has a knowledge of Scripture as well as compassion, kindness, humility, meekness, and patience (Col. 3:12) and talk to him or her about Jesus.
You Defined Regeneration as God Giving Us a New Heart By the Power of the Holy Spirit. What Does It Mean to Live a Regenerated Life?
Living a regenerated life primarily means that our deepest desires are to live in loving obedience to Jesus out of our new heart by the power of the Holy Spirit. The opposite of this is either living in sin out of the deepest desires of an unregenerated heart or trying to live in compliance to a standard of righteousness without a new nature, when our deepest desires are for sin and not holiness. Like Jesus, regenerated living is serving not out of duty and fear of punishment but out of joy and delight (Heb. 12:2).
We want to please God, to be with him, to be like him. The longings of a regenerated heart are for his Word, for prayer, for worship, for fellowship with God and his people, for service, for holiness, for witness, and for being home with him in his eternal kingdom.
However, the conflict with sin continues because we still have sinful desires, what the Bible calls "flesh." The sinful desires are opposed to the desires of the new heart (Gal. 5:17). Romans 7:14–25 describes the conflict in the justified (Romans 4–5) and regenerated (Romans 6) believer. In regeneration, love for God and neighbor is written on our heart in the depth of our being. At this deep level, we can say, "I delight in the law of God, in my inner being" (Rom. 7:22). But Paul sees in himself "another law waging war against the law of my mind" (Rom. 7:23). This is the presence of sinful desires, and the conflict they cause makes us feel wretched. Paul's answer is not more law but instead more Spirit (Rom. 8:2–4).
Have something to say about this article? Leave your comment via Facebook below!
advertise with us
Example: "Gen 1:1" "John 3" "Moses" "trust"
Advanced Search
Listen to Your Favorite Pastors