Vintage Church
Mark Driscoll and Gerry Breshears, Authors
Tuesday, April 07, 2009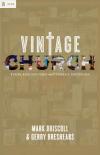 This is also how Paul deals with the sins of the Corinthian believers who were involved in rampant sexual immorality, hostile factions, and even idolatry. Paul could have easily opened his Bible and thundered, "The Ten Commandments order us not to worship idols and to abstain from sexual immorality, so stop it!" But he didn't. Again and again he called them back to Jesus and their life with him. Don't go to prostitutes because you are united with Christ. Don't go to demon feasts, because that is not who you are in Jesus. It is the same principle in every case: Jesus, Spirit, life, heart—not law. Do right because of who you are in Christ and because he's in you. Everything is defined by our new identity and our new love.
If we take time to think and pray, consulting with other new covenant believers, and do what will give us the deepest joy, then we will almost always do the right thing. We serve God with delight rather than drudgery. Obedience, or keeping in step with the Spirit, means that we stop doing willful sins and do the things Christ asks us to do, because that will make us and Jesus happiest. We do this by the gracious direction and empowerment of the Spirit. Rather than focusing on mere morality, or conduct, we live transformation from the inside out. As we draw close to God and spend time in his presence, the Spirit progressively transforms our character into conformity with the character of Christ. As this happens, Jesus says, "You will find rest for your souls. For my yoke is easy, and my burden is light" (Matt. 11:29–30).
You can find more on this approach to the Christian life in books like Dallas Willard, Renovation of the Heart; John Piper, Desiring God; and Gary Thomas, The Beautiful Fight.
Your Statement of the Gospel Is Very Different from What I Learned in Church.
Sadly, you are not alone. Many Christians have learned only the forgiveness part of the gospel. These gospel presentations begin with our sinfulness, separation from God, and impending eternity in hell and go on to say that Jesus came to die to pay the penalty for our sin so that if we believe and receive him as Savior, we will have all our sins forgiven and spend eternity with him in heaven.
Everything in this outline is absolutely true. But it leaves out some vitally important aspects of the gospel as Peter preached it in Acts 2 (see page 23). For example, if we leave out regeneration, the Christian life is reduced to duty-based religion rather than the joyous spiritual life. Without membership in the community of the Spirit, people bring culturally conditioned values of radical individualism into their Christian experience. Subsequently, Christianity becomes only a matter of private devotion between me and God, something that's all about me and what I get from God instead of a participation in a community committed to fulfilling the mission of God. Without exaltation and the defeat of the powers of darkness, people are left thinking they are helpless in their subjugation to the pagan gods and evil spirits.
Didn't Jesus Come to Earth to Die for Our Sin?
Absolutely! But that's not all he came for. In addition to coming to die for sin, Jesus came to redeem captives out of slavery into freedom (John 8:32–36), to destroy the authority of the powers of darkness (Eph. 1:20–23), to show us how to live (Phil. 2:1–5; 1 John 4:9–11), to reveal the Father to us (John 1:18; Rom. 5:8), and to bring us life. When Jesus speaks of this life, he exclaims, "I came that they may have life and have it abundantly" (John 10:10).
This life is not just being with Jesus in heaven after we die but having a Spirit-empowered relationship with Jesus in the present. John 17:21 says we actually share the life of the Trinity now. Jesus prays "that they may all be one, just as you, Father, are in me, and I in you, that they also may be in us, so that the world may believe that you have sent me." It is a serious mistake to affirm one facet of truth with the implication that it is the whole truth. Even if we do it with good intention, we still deny truth.
Have something to say about this article? Leave your comment via Facebook below!
advertise with us
Example: "Gen 1:1" "John 3" "Moses" "trust"
Advanced Search
Listen to Your Favorite Pastors