Vintage Church
Mark Driscoll and Gerry Breshears, Authors
Tuesday, April 07, 2009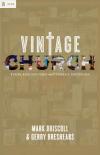 Once born, Jesus was dedicated to the Lord in the temple according to the demands of the law by Simeon; "the Holy Spirit was upon [Simeon]" and the Holy Spirit had revealed to him that he would not die until seeing Jesus Christ.16 Simeon was "in the Spirit" when he prophesied about Jesus' ministry to Jews and Gentiles to the glory of God.17 John later prophesied that one day Jesus would baptize people with the Holy Spirit.18 The Holy Spirit descended upon Jesus at his own baptism.19 It is curious that while the Gospels give scant information about Jesus' childhood, all four include the account of Jesus' baptism. Matthew adds the interesting statement that the Spirit rested on Jesus, as if to suggest that the remainder of his life and ministry on the earth would be done under the anointing and power of the Holy Spirit.20
Regarding Jesus' baptism, Graham Cole writes, "The symbol of the dove and Jesus' emerging from the waters, soon to reenter the land, possibly conjure up the old stories of Noah's flood and Israel's exodus from Egypt and its eventual crossing over the Jordan into the Promised Land. God is about to do something of extraordinary significance in salvation-history."21
In the remainder of Luke's Gospel we discover that Jesus was "full of the Holy Spirit," "led by the Spirit,"22 and came "in the power of the Spirit."23 After reading Isaiah 61:1–2, which says, "The Spirit of the Lord is upon me, because he has anointed me to proclaim good news to the poor. He has sent me to proclaim liberty to the captives and recovering of sight to the blind, to set at liberty those who are oppressed, to proclaim the year of the Lord's favor," Jesus declared, "Today this Scripture has been fulfilled in your hearing."24 Luke continues by revealing that Jesus also "rejoiced in the Holy Spirit."25 Regarding the Holy Spirit's ministry to and through Christians, Jesus promised that God the Father would "give the Holy Spirit to those who ask him"26 and that the Holy Spirit would teach us once he was sent.27
In the charismatic and Pentecostal traditions of the church there has been a great devotion to the person and work of God the Holy Spirit. However, sometimes the emphasis on the Holy Spirit comes at the expense of a full appreciation of the person and work of Jesus and/or a subtle impression that somehow Jesus and the Holy Spirit are competing for glory. This is Holy Spirit-olatry.
In some Reformed and dispensational traditions there is a devotion to Jesus that results in a practical denial of the work of the Holy Spirit in Jesus and in the church today. This is Jesus-olatry. They affirm the reality of the Spirit, but in their zeal to glorify only Jesus and to protect the uniqueness of the Bible, or in their fear of falling into emotionalism, they stress the cessation of the work of the Spirit. They limit the work of the Spirit in pointing to Jesus instead of empowering the church to continue the mission of Jesus.
Gerald Hawthorne, who has written one of the most compelling books on the subject of Jesus' relationship with the Holy Spirit, says, "Not only is Jesus their Savior because of who he was and because of his own complete obedience to the Father's will (cf. Heb. 10:5-7), but he is the supreme example for them of what is possible in a human life because of his total dependence upon the Spirit of God."28 By closely examining the relationship between Jesus and God the Holy Spirit during Jesus' earthly life, we see that they work in cooperation, not in competition. Furthermore, we see that Jesus and not some goofy guru is the quintessential example of what it means to live a Spirit-filled life. Important also is the fact that Jesus' life was lived by the power of the Spirit as a missionary in culture.
Have something to say about this article? Leave your comment via Facebook below!
advertise with us
Example: "Gen 1:1" "John 3" "Moses" "trust"
Advanced Search
Listen to Your Favorite Pastors