Vintage Church
Mark Driscoll and Gerry Breshears, Authors
Tuesday, April 07, 2009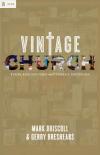 SPIRIT-FILLED MISSIONARY JESUS
Jesus is the greatest missionary who has ever lived or will ever live. In fact, Jesus' incarnation was in many ways a mission trip led and empowered by God the Holy Spirit.
First, Jesus came into a sinful culture. As a missionary, Jesus left the culture of heaven to come into a sinful culture on the earth. This cross-cultural transition was starker than any missionary has ever experienced. Jesus came from the culture of heaven, where there is no temptation, sin, sinners, or death. In entering into culture on earth, Jesus was tempted by Satan to sin, surrounded by sinners, and both witnessed and experienced death as the penalty for sin.
Second, Jesus learned firsthand about a sinful culture. As the perfect missionary, Jesus did not learn about the sinful culture from a careful and safe distance. No, Jesus built friendships with sinners, Jesus learned the language of sinners, Jesus ate food with sinners, Jesus drank wine with sinners, and Jesus participated in the parties and holidays of sinners. The religious types in Jesus' day were incensed by his participation in sinful culture with sinners, and Jesus himself reports that when they saw him they would rebuke and mock him, saying, "Look at him! A glutton and a drunkard, a friend of tax collectors and sinners!"29
Third, Jesus did not condone sin, nor did he sin, himself. Jesus said that he never sinned.30 Furthermore, the Bible elsewhere emphatically declares that Jesus is the only person who has never sinned.31 While Jesus never broke any of God's laws as revealed in Scripture, he did not hold certain social and religious customs (those that do not find their authority in Scripture) in high regard. Subsequently, Jesus frequently broke various social and religious customs when he felt it was necessary to further the work of God. Examples include healing on the Sabbath,32 throwing over tables in the temple,33 eating with godless sinners,34 and not washing his hands before eating.35 Some people who were committed to defending their social and religious traditions, despite the lack of biblical support, were offended by Jesus' unwillingness to submit to their rules in addition to God's. Their tribe continues to this day among those who are prone to place the authority of cultural trends and religious traditions above Scripture. You can hear them saying, for example, that we who preach in jeans without tucking in our shirts dishonor God.
Furthermore, during his earthly missional ministry Jesus not only confessed that he was sent into culture as a missionary, but he also sent Christians on the exact same mission. For example, in John's Gospel alone, Jesus told us no less than thirty-nine times that he was a missionary from heaven who came to minister incarnationally in an earthly culture.36 Jesus also commands us to be missionaries in culture as he was: "As you sent me into the world, so I have sent them into the world."37 He also said, "As the Father has sent me, even so I am sending you."38
Before sending Christians on their mission, though, Jesus accomplished his mission by dying on the cross in our place for our sins. Theologically, we call this penal substitutionary atonement. In common vernacular, this means that our God became the man Jesus Christ who, though without sin, died on the cross in our place to pay the penalty of death for our sins. In the garden our first parents, Adam and Eve, substituted themselves for God, and since then we each have done the same by living as our own gods. Yet at the cross Jesus substituted himself for us to bring us back to the real God. The Bible uses the word for to explain that the historical fact of Jesus' death was for our sins:
"But he was wounded for our transgressions; he was crushed for our iniquities; upon him was the chastisement that brought us peace, and with his stripes we are healed."39
"[He] was delivered up for our trespasses."40
"But God shows his love for us in that while we were still sinners, Christ died for us."41
"Christ died for our sins."42
"For Christ also suffered once for sins, the righteous for the unrighteous, that he might bring us to God."43
The importance of the cross to the church is that apart from Jesus' death on it in our place for our sins, the church does not exist and has no good news to tell. Unless our sin is taken away, our new life as God's people cannot begin. It cannot be overemphasized that where the cross of Jesus is not exalted and proclaimed as the central act in all of history and in our own redemption, the church is not present. Spiritually speaking, the church is the community of people who gather around the cross of Jesus to humbly repent of sin, trust in him, sing his praises, and follow his example.
Have something to say about this article? Leave your comment via Facebook below!
advertise with us
Example: "Gen 1:1" "John 3" "Moses" "trust"
Advanced Search
Listen to Your Favorite Pastors