Vintage Church
Mark Driscoll and Gerry Breshears, Authors
Tuesday, April 07, 2009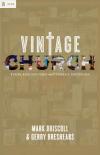 Furthermore, the church has as its answer to every important question the good news of the person and work of Jesus. His work includes the following ten things he accomplished for those who are saved by grace alone through faith alone in Jesus Christ alone without any false notion that they can in any way contribute to their salvation through human works such as morality, spirituality, or religious devotion.44
1) Jesus is our victor who conquered Satan and demons on the cross so that we could live a life free of slavery to sin, of vain regrets for past sin, of condemnation and torment.45
2) Jesus is our redeemer who freed us from slavery to sin and death, not unlike the Old Testament saints who were liberated from tyranny and oppression in Egypt to live new lives of worship, joy, and holy freedom.46
3) Jesus is our new-covenant sacrifice and our great high priest who offered his own body as a sacrifice in our place for our sins in fulfillment of the Old Testament sacrificial system.47
4) Jesus is our justification who takes away our sin and gives us his righteousness as a gift by exchanging places with us on the cross so that we can be justified in the sight of God.48
5) Jesus is our propitiation who stood in our place to divert the just wrath of God away from us by enduring it himself in love.49
6) Jesus is our expiation who cleanses us from the sins we have committed and the sins that have been committed against us, which commingle to make us dirty and defiled.50
7) Jesus is our ransom who has mediated between us and God and paid the price for our sins.51
8) Jesus is our example who has shown for us the perfect human life, which includes laying down our lives for brothers and sisters by the power of the Holy Spirit.52
9) Jesus is our reconciliation who has taken away our sin and reconciles us back into loving relationship with God and others.53
10) Jesus is our revelation, and on the cross we see God's wrath and love, justice and mercy, holiness and compassion revealed in perfection.54
In every way, the church is the people who have benefited from Jesus' work on the cross, live in light of it, and gladly proclaim it.
Following his death on the cross in our place for our sins, Jesus rose by the power of the Holy Spirit.55 In the New Testament, the cross and the resurrection are treated as essentially one event because if Jesus had not risen to conquer Satan, sin, and death, all we would have is the death of a great man, not the remission of sin. Following his resurrection in victory over Satan, sin, and death, Jesus gave the Great Commission: "All authority in heaven and on earth has been given to me. Go therefore and make disciples of all nations, baptizing them in the name of the Father and of the Son and of the Holy Spirit, teaching them to observe all that I have commanded you. And behold, I am with you always, to the end of the age."56 Indeed, the authority of our mission rests on nothing less than the authority delegated to us by the exalted Lord Jesus Christ who rules over all.
The sequel to Luke, the book of Acts, reveals how our mission is to occur. Whereas the Gospel of Luke focuses on the cultural life and missional ministry of Jesus in his physical body by the power of the Holy Spirit, the book of Acts reveals the continuing ministry of Jesus in his metaphorical body, the church, by the power of the same Holy Spirit.57
With the ascension of Jesus, a great reversal of sorts occurred. While on the earth, Jesus bore the Spirit. Following his ascension and return to glory in heaven, however, Jesus bestowed the Spirit upon the church. This is precisely what we read of in Acts 2 where the Holy Spirit descends upon the church in much the same way that he did at the baptism of Jesus. We read in Acts 2:4 that "they were all filled with the Holy Spirit." After this birth of the church, many miraculous activities occurred. For example, Graham Cole says, "Just as there had been with the Messiah's birth an outburst of prophesying by various people filled with the Spirit (e.g., Luke 1:41, Elizabeth; v. 67, Zechariah) or having the Spirit upon them (e.g., Luke 2:25–26, Simeon), so too at the birth of the Messiah's eschatological community [the church] (Acts 2:17–18)."58
Have something to say about this article? Leave your comment via Facebook below!
advertise with us
Example: "Gen 1:1" "John 3" "Moses" "trust"
Advanced Search
Listen to Your Favorite Pastors