Vintage Church
Mark Driscoll and Gerry Breshears, Authors
Tuesday, April 07, 2009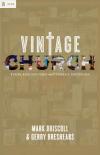 Tragically, many Christians have lost the understanding of the new life of the Spirit. They do not preach or live the regeneration of believers. Rather than living out a joy-filled life flowing from their deepest desire to be like Jesus, they settle for being sinners saved by grace, obligated to do all they can to keep the law of God by duty rather than by delight. Subsequently, they have lost the double gift of imputed righteousness, which accompanies our justification, and the imparted righteousness of the indwelling Spirit, which accompanies our new heart and regeneration. On the cross God did a work for us by saving us through the death of Jesus in our place for our sins. At Pentecost we then see that God does a work in us through the Holy Spirit in our hearts for our regeneration. Together, both our eternity and every step along the way can be filled with hope, joy, purpose, and passion if we see the relationship between the cross and Pentecost.
God promised a new covenant when the Messiah came: "I will give you a new heart, and a new spirit I will put within you. And I will remove the heart of stone from your flesh and give you a heart of flesh. And I will put my Spirit within you, and cause you to walk in my statutes and be careful to obey my rules."60 In the Bible, "heart" does not usually refer to the physical organ but rather the metaphorical center, seat, and sum of who we are. Proverbs 4:23 says, "Keep your heart with all vigilance, for from it flow the springs of life." Therefore, if our life is a river, it flows from the wellspring of our heart. The regenerating work of the Holy Spirit in the heart is the source of the Christian life and Christian church.
People who are regenerated are repeatedly spoken of throughout the New Testament as new people with a new identity, new mind, new desires, new emotions, new power, new hope, new joy, new love, new passion, and new freedom to live a new life. Therefore, by the Spirit's power and our heart's desire, we live for, like, through, by, and with Jesus Christ for God's glory and our joy. We live as missionaries for Jesus in the world by loving our neighbors. We also gather together as the church to grow together in love for our spiritual brothers and sisters, all of which is done out of love for God because he has loved us so well.
One of the great debates among various denominations and theological traditions is how we can distinguish between Christians and non-Christians. Various answers such as being baptized, taking communion, asking Jesus into your heart, going to church, and living a good life are often given. The problem with each of these is that while true Christians do bear each of these marks, there are also non-Christians who do the acts without having regenerated hearts that belong to God. Such people are like the religious people God speaks of in Isaiah 29:13: "People draw near with their mouth and honor me with their lips, while their hearts are far from me, and their fear of me is a commandment taught by men." In the end, as 2 Timothy 2:19 says, "The Lord knows those who are his." This is because he alone knows our hearts and whether the Holy Spirit has regenerated them. Regarding the regenerated heart, which is the mark of a true Christian, the theologian Millard J. Erickson has said,
All of the people of God are marked with a special brand as it were. In the Old Testament, circumcision was the proof of divine ownership. It was required of all male children of the people of Israel, as well as of all male converts or proselytes. It was an external sign of the covenant which made them God's people. It was also a subjective sign of the covenant in that it was applied individually to each person, whereas the ark of the covenant served as an objective sign for the whole group.
Instead of this external circumcision of the flesh, found in the administration of the old covenant, we find under the new covenant an inward circumcision of the heart. Paul wrote, "He is a Jew who is one inwardly, and real circumcision is a matter of the heart, spiritual and not literal" (Rom. 2:29; see also Phil. 3:3).61
Have something to say about this article? Leave your comment via Facebook below!
advertise with us
Example: "Gen 1:1" "John 3" "Moses" "trust"
Advanced Search
Listen to Your Favorite Pastors