Vintage Church
Mark Driscoll and Gerry Breshears, Authors
Tuesday, April 07, 2009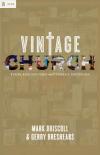 The heart is both regenerated and empowered by God the Holy Spirit to live a life patterned after Jesus. In speaking of Jesus' earthly ministry, Peter said, "God anointed Jesus of Nazareth with the Holy Spirit and with power. He went about doing good and healing all who were oppressed by the devil, for God was with him."62 Likewise, prior to his death and resurrection, Jesus promised that those who believe in him would do greater works than he by the power of God the Holy Spirit who empowered his own life and ministry; we see this in the church spread across the earth to continue Jesus' ministry in a greater number of places than he could minister while limited by his human body.63
Before ascending into heaven, Jesus spoke of how the church was supposed to continue with Spirit-anointed ministry.64 Just as Jesus promised, today Christians are sealed by the Holy Spirit at conversion and are able to be filled with the Holy Spirit like Jesus was.65 This means that we can live like Jesus, doing what he did, with two exceptions. One, we must continually repent of personal sin, which is something the sinless Jesus never had to do. Two, we are not continually and perfectly able to live like Jesus because of our ongoing sinful desires.66
Subsequently, seeing Jesus as led and empowered by God the Holy Spirit eliminates any apparent conflict between the two for prominence. If Jesus was filled with the Holy Spirit, then Jesus and the Holy Spirit are obviously not in opposition but work together in perfect union. This allows us to love, worship, obey, and follow Jesus by the power of the Holy Spirit without any conflict in loyalty between Jesus and the Holy Spirit.
Additionally, seeing Jesus as Spirit-filled allows us to keep the cross at the center of our Bible and theological convictions rather than viewing the cross as the precursor to Pentecost, where the more important work of sending the Holy Spirit occurred. It allows us to see the crucifixion and resurrection of Jesus as the most important events in all of human history. It also allows us to see the outpouring of the Holy Spirit at Pentecost not as a distinct and greater work but as the application of the work of Jesus on the cross to sinners for their salvation, bringing the Holy Spirit to dwell in them and empower them to live the life of Jesus.
Practically, this also means that living the Spirit-filled life includes enduring hardship, pain, weakness, and loss as Jesus did. If we suffer while Spirit-filled, we will, like Jesus, grow in perfection through these hardships.67 Therefore, we must embrace the truth that our joy lies through hardship, not in spite of hardship, if we remain led by the Spirit.68 We must also accept that evil happens to even the most Spirit-filled people and is not an excuse for rebellious sin or a reason to believe that God is unjustly punishing us.69 This Spirit-filled suffering is also required of whole churches, which suffer as the "body of Christ."70 Therefore, being Spirit-filled like Jesus ultimately means denying ourselves, picking up our cross, and following him wherever the Spirit leads, which may include suffering and dying like Jesus.
This Spirit-filled perspective of Jesus' incarnation allows us to remain Jesus-centered in our thinking, Spirit-led in our practice, and humble in our hardships. This is made possible when we realize that because being Spirit-filled means being like Jesus, such things as poverty, sickness, and hardship are not incompatible with living a Spirit-filled life, as many false health-and-wealth teachers preach. Indeed, the only perfect Spirit-filled person who has ever lived, Jesus Christ, worked a simple job, lived a simple life, and died a painful death as a flat-broke homeless man by the power of the Holy Spirit as a missionary in a sinful culture.
Among many pastors today is a growing interest in the incarnation of Jesus Christ. Rightly understood, the incarnation of Jesus as a missionary in culture led and empowered by God the Holy Spirit serves as our pattern of life as Spirit-filled missionaries with regenerated hearts made possible by the cross. Wrongly understood, an overemphasis on the past humble incarnation of Jesus fails to see Jesus in his present glorious exaltation. If we were to see Jesus today we would not see him in his state of humble incarnation as a poor, homeless Galilean peasant. Rather, we would see Jesus as both Isaiah and John saw him71— enthroned in glory as King of kings and Lord of lords ruling over everyone and everything with "all authority in heaven and on earth," just as he said.72
Have something to say about this article? Leave your comment via Facebook below!
advertise with us
Example: "Gen 1:1" "John 3" "Moses" "trust"
Advanced Search
Listen to Your Favorite Pastors