Radical Womanhood
Carolyn McCulley, Author
Thursday, January 15, 2009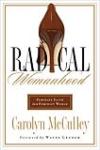 "The Athena woman is very visible because she is an extravert, she's practical, and she's intelligent. Men are often a little intimidated by her at first because she doesn't respond to the usual sexual gambits and she will push them to the wall in any intellectual argument. When they have won her respect, she can be the most loyal of companions, a lifelong friend, and a generous fund of inspiration …
"Despite her strength, brilliance, and independence, there is a paradox contained in the traditional image of a maid clad in armor. It seems to us that the more energy the Athena woman puts into developing her successful, worldly, armored self, the more she hides her maidenly vulnerability. So, with her androgyny, Athena conceals a conflict, an unresolved tension between her tough outer self and her hidden, unexpressed self that can be a source of great insecurity with regard to her finding an integral feminine identity. We call it Athena's wound …
"She will spar with [her mate], compete with him, and often despise him because he is not as tough as she is."
That was a fairly accurate portrait of my life then. I really didn't know what to do with my feminine identity, but I certainly knew how to spar with men. Now, in quoting that book, I'm not endorsing it in any way. But I do look back and marvel at how creative God is when He begins to work in our hearts. Because I was nowhere near a Bible at the time, God used that book and its faulty psychological premise to jump-start my thinking. That quote was the last thing I wrote in my journal before boarding a flight to South Africa. I left for that vacation thinking that I needed to do something to address my fractured feminine psyche. I saw the problem—or at least part of it—but I wasn't sure how to resolve it.
It was during my travels in South Africa that God revealed to me more about this dilemma and offered His priceless solution. I was going to visit my sister and brother-in-law, who were living there on a temporary basis to study at a Bible college. My plan was to enjoy an exotic holiday and nothing more. But on Easter Sunday, in a church pushing for racial reconciliation in a nation scarred by apartheid, I heard the greatest message of redemption and forgiveness that would ever reach human ears.
There, sitting among people who had once despised each other for the color of their skin, I learned that hope for change was found in the life and death of Jesus Christ. After explaining the historical evidence for the veracity of Jesus' life, the pastor told us the significance of his death. He started with the problem of sin—our rebellion against God's laws and holy standards. In a place like South Africa, wreaked by prejudice and bloodshed, sin is clearly evident. But even if we've never discriminated against anyone nor murdered anyone, we are not innocent. From the moment we screamed, "No!!" as a toddler to the times we have cheated, lied, and stolen as adults, to the innumerable hours we spend consumed about our self-image and self-assessment at the expense of others, we have accumulated a weight of guilt and sin that crushes us before a holy God.
The pastor explained to us that the Bible says that death is the consequence of sin. We each face death because of our individual sins, but we also live in a broken world because of our collective sinfulness. But God offers us a shocking solution. To break the cycle of sin and death, He sent His Son, Jesus Christ, to be our substitute—to live the perfect life that we cannot live in order to pay the punishment for our sins that we cannot pay. Jesus died on the cross so that we could live. His resurrection three days later was proof that His sacrifice was sufficient to break the curse of sin and death. God does not ignore sin or tolerate injustice. He poured all the righteous anger for our sins on His Son so that we could receive forgiveness. Sin does not go unpunished, but in the cross of Christ mercy triumphs over judgment. This is the gospel—or the good news—of Jesus Christ's life, death, and resurrection.
Have something to say about this article? Leave your comment via Facebook below!
advertise with us
Example: "Gen 1:1" "John 3" "Moses" "trust"
Advanced Search
Listen to Your Favorite Pastors