Radical Womanhood
Carolyn McCulley, Author
Thursday, January 15, 2009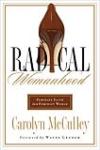 That Easter Sunday, I finally heard and understood the gravity of this message. I saw the anger, the harsh judgment of others, and the selfishness in my life for what it was: sin against God and against others. And I broke down in tears as the good news of Jesus' saving sacrifice was revealed and offered to me.
For the first time, I had real hope for change. But change was a process. I still straddled the fence in some areas, cynical about the evangelical subculture, televangelism scandals, faked miracles, and denominational division. Throughout the trip, I asked my sister and brother-in-law many tough questions. They responded graciously with the words of Scripture but did not try to sell me on their views. I marveled at their restraint and pondered their words as the dusty red roads of South Africa passed under our wheels.
On the third Sunday in South Africa, we visited a church in Cape Town to hear my brother-in-law's former pastor. An American by the name of C. J. Mahaney preached a message about the honesty and range of human emotions recorded in the Psalms. C. J. alleviated my concerns about turning into a fake smiley-face button for Jesus. The Bible did not shrink back from the reality of our fluctuating feelings. It also did not leave us wallowing in them. Our emotions were designed by God to propel us toward truth and faith—a progression modeled for us in nearly every Psalm.
Submission Impossible
When I returned home, I knew God had done something in my life. Real faith was budding in my life, but I didn't know what this meant for me. I was different—but I still needed personal mentoring and instruction. I knew I needed to quit some obvious sin patterns, go to church, and read my Bible, but I wasn't convinced that a whole lot else needed to change. Little did I know that the Holy Spirit was in the process of turning me upside down and shaking loose all my prior beliefs and ideas like so much pocket change.
Point by point, the Holy Spirit used the Bible and the church to renew my mind. I conceded nearly every aspect until I reached one passage in Ephesians: "Wives, submit to your husbands as to the Lord. For the husband is the head of the wife as Christ is the head of the church, his body, of which he is the Savior. Now as the church submits to Christ, so also wives should submit to their husbands in everything" (Ephesians 5:22 NIV).
Submission?! Surely that was one ancient concept that no one practiced anymore! There was no way on God's green earth that I would ever concede that women are inferior and must live as second-class to men. That passage was just wrong, wrong, wrong. All my feminist offenses roused themselves in objection.
But I kept going to church.
That's when I began to hear my pastor and other people talking about another foreign concept: servant-leadership. The awkward phrasing of this concept demanded an explanation. Once again, I was pointed to Ephesians, chapter five. This time, I read the rest of the offending passage. Though the first part was for wives, the verses that followed for husbands were far more challenging and provided a definition of leadership that was not for self-glory but for the benefit of another.
Husbands, love your wives, just as Christ loved the church and gave himself up for her to make her holy, cleansing her by the washing with water through the word, and to present her to himself as a radiant church, without stain or wrinkle or any other blemish, but holy and blameless. In this same way, husbands ought to love their wives as their own bodies. He who loves his wife loves himself. After all, no one ever hated his own body, but he feeds and cares for it, just as Christ does the church—for we are members of his body. "For this reason a man will leave his father and mother and be united to his wife, and the two will become one flesh" (Ephesians 5:25 NIV).
Have something to say about this article? Leave your comment via Facebook below!
advertise with us
Example: "Gen 1:1" "John 3" "Moses" "trust"
Advanced Search
Listen to Your Favorite Pastors