Radical Womanhood
Carolyn McCulley, Author
Thursday, January 15, 2009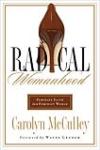 There are competing answers out there. More than forty years after "women's lib" began, pundits claim that we now live in a post-feminist age. Feminism is a given. We breathe it, think it, watch it, read it. Whenever a concept so thoroughly permeates a culture, it's hard to step back and notice it at work. Feminism has profoundly altered our culture's concept of what it means to be a woman. We need to understand how this movement came about and what its goals have been because these are now our culture's assumptions. We also need to acknowledge that there has been some good that has come out of it. There were some serious inequities that were changed by the feminist movement. I'm grateful for the short-term gains, but the long-term consequences are profound and need to be examined in light of feminism's worldview.
My personal history is no doubt different from yours. You may not identify yourself as a current or former feminist. You may not identify yourself as a Christian—or, conversely, you may have grown up in the church. But chances are there are aspects of your femininity that have been negatively impacted by feminism, no matter how you identify yourself now. That's why I believe it is important to examine the history of feminism, how it has affected our culture and our churches, and how its claims stand up to the teaching of Scripture.
This is the book I wished I had as a new believer. Over the years, I've tried to retain the impressions and memories I had as a new believer regarding the church, God, the Bible, masculinity, and femininity, just in case I had the opportunity to write it. When I first encountered these concepts as a new Christian, I wanted someone to explain to me how feminism came about, how it influenced my thinking, and why femininity as defined by the Bible wasn't a throwback to some horrible era. No one around me in the church looked unhappy, constricted, or oppressed by the gender roles described in the Bible. In fact, they were surprisingly joyful. The men treated me respectfully. The women smiled and laughed. The children were friendly and generally obedient. No one seemed lobotomized and I never did find any secret cult meetings. So after awhile, I accepted that this was genuine behavior and not a conspiracy to brainwash me into backwoods thinking. That left me free to examine the claims of Scripture without suspicion.
Fifteen years later, I am deeply grateful for the opportunity to write the book I looked for as a new believer—a book that examines the history of the feminist movement and its major philosophies and gives an explanation of what the Bible teaches about women, our worth, and our roles. If you are a new believer, or even if you are not a Christian, I pray that when you are finished with this book you will put it down with a better understanding of why God made men and women in His image—two sexes, equal in worth and dignity—and why He assigns different roles to us in order to accomplish His purposes in His kingdom.
If you are a long-time Christian, I pray you will be refreshed in your commitment to these godly principles. Biblical womanhood is not a one-size-fits-all mold. It's not about certain dress styles, Jane Austen movies, tea parties, quiet voices, and exploding floral patterns … whatever stereotype you are picturing right now. To live according to biblical principles today requires women be bold enough to stand against philosophies and strongholds that seek to undermine God's Word and His authority.
You've read part of my story already. In future chapters, you'll meet other women from different churches, backgrounds, and ethnicities—in other words, this book is not just drawn from my experience. I know all of these women, some for more than a decade. These are real women who have trusted God in joy and in sorrow. They join me in celebrating feminine faith in a feminist world.
radical womanhood: feminine faith in a feminist world
Copyright © by Carolyn McCulley
Published by Moody Publishers
820 N. LaSalle Blvd., Chicago, IL 60610
All rights reserved. No part of this publication may be reproduced, stored in a retrieval system or transmitted in any form by any means, electronic, mechanical, photocopy, recording or otherwise, without the prior permission of the publisher, except as provided for by USA copyright law.
Have something to say about this article? Leave your comment via Facebook below!
advertise with us
Example: "Gen 1:1" "John 3" "Moses" "trust"
Advanced Search
Listen to Your Favorite Pastors