Seeds of Summer
Deborah Vogts, Author
Monday, June 14, 2010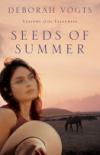 "What were you and your buddies doing in there?" Her brows crinkled, and she instantly thought the worse. Dark barn, suspicious behavior. Had they been doing drugs, or were they stealing?
"It's not what you think." The hostility in the air pricked her skin as the man stepped closer. He stood a half-foot taller than her own five-foot-eight.
Natalie gripped the shotgun, her palms damp with sweat. Did she have the guts to shoot a man? She aimed the barrel at his chest. "Is this how you're going to honor my father? By stealing from him? He's not been dead a week."
"The boys and I—we were just having some fun—talking was all." His gentle voice caressed her.
Natalie recognized the seduction of his lie—the flicker of deceit in his eyes. "In the dark?"
"No law against talking in the dark." He reached in her direction, much too close for her comfort.
She shoved his lanky body back with the metal barrel and thought of all the work they needed to accomplish the next day unloading and doctoring cattle. Could she and the kids get along without his help if she fired him? Could she trust him to tell the truth?
His lips pulled into a pout. "Come on, Miss Adams. I've been with your dad for nearly six months. He trusted me. We weren't doing nothing wrong . . . honest."
Natalie searched the man's eyes for a hint of sincerity. "Swear on your mama's grave?" Even as the words came from her mouth, she knew she was a fool to trust him.
"Better—I'll swear on your daddy's."
Natalie's throat swelled. She blinked back hot tears. Her good judgment now clouded with grief, she eased the barrel toward the ground. "I guess the stress is getting to me. Sorry for being so jumpy."
Tom stepped forward. "I understand. A person can't be too careful these days—especially a young woman like yourself. It's good I'm around for protection."
Natalie disregarded his remark, finding no comfort in it. Her gut twisted at the vulnerable position her father's death had placed her in as Tom drift back to the darkness of the barn. With a tired sigh, she studied the moon above. Like a shooting star, her life had changed in an instant and no matter how much she wished it, not even the crickets or the moaning bullfrogs could set it right again.
Returning to the house, she peeked in on her twelve-year-old brother, asleep in his upstairs bedroom. His tranquil face reflected no worries, no hint of strain from their recent ordeal.
Oh, that her rest could be as peaceful.
When Natalie opened the door to her sister's bedroom, she failed to make out a form under the covers. A flick of the light revealed Chelsey's bed hadn't been slept in. She glanced about the room, then noticed the splay of curtains caught in a warm breeze from the open dormer window.
Natalie darted back to Dillon's room.
"Where's Chelsey?" She jiggled her brother's leg and watched the young boy rouse from a deep sleep.
Dillon rubbed his eyes and sat up in bed. "What?"
"Chelsey's not in her room. Do you have any idea where she might be? Out with friends? A party somewhere?"
Her brother shook his head, then yawned. "I heard her talking on her cell phone to Lucas this evening. Maybe she's with him."
Natalie's mouth grew taut. Nothing good ever happened past midnight, and it was now close to two. She hoped the reckless teenagers weren't in a ditch somewhere.
A loud thump from Chelsey's room caused those thoughts to evaporate.
Natalie rounded the hallway to find her fifteen-year-old sister crumpled on the bedroom floor.
Chelsey raised her head, her eyes glazed. "Hey, sis." Her words came out slurred as she tried to stand. "Did ya miss me?"


Copyright © 2010 by Deborah Vogts
This title is also available as a Zondervan ebook.
Visit www.zondervan.com/ebooks.
This title is also available in a Zondervan audio edition.
Visit www.zondervan.fm.
Requests for information should be addressed to
Zondervan, Grand Rapids, Michigan 49530

Deborah Vogts and her husband have three daughters and make their home in Southeast Kansas where they raise and train American Quarter Horses. As a student at Emporia State University studying English and journalism, Deborah developed a love for the Flint Hills that has never faded. In writing this series, she hopes to share her passion for one of the last tallgrass prairie regions in the world, showing that God's great beauty rests on the prairie and in the hearts of those who live there.


Have something to say about this article? Leave your comment via Facebook below!
advertise with us
Example: "Gen 1:1" "John 3" "Moses" "trust"
Advanced Search
Listen to Your Favorite Pastors