Standing Firm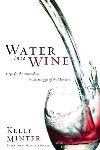 It is really no different in the spiritual realm. In order to save our lives, we must lose them. Whoever loses his life will find it. A seed must go into the ground and die before it can spring to new life. These are the eloquent, yet painfully difficult-to-hear truths that Jesus spoke into existence. Though I wish there were another way, the lose-your-life-so-you-can-find-it path is the only way I've found to freedom.
No matter how we dress up the Christian faith or how appealing we try to make Christianity sound, and no matter how many charming books are written or slick television sermons are preached, at the core of it all is this one huge, irrevocable principle: For us to be free, we must submit ourselves to God. We cannot do this while we are still trying to be our own masters. Soul-freedom requires obedience and servanthood and, ultimately, surrender, and every other requirement that drives me crazy, until I remember that these "religious" responses are not life squelching, but are routes to liberation.
But the path to freedom can be arduous. In fact, writing this chapter has taken me to task. I found myself in a really bad mood yesterday the minute I sat down to write on this subject, and it didn't lift until I shut down my laptop for the night. I came toe to toe with the fact that soul-freedom is not easy to achieve and that bondage tends to be my default mode. We all have things we allow to hold us captive for a litany of reasons. And it never fails … just when I think I'm getting a handle on these things, I lose my grip altogether.
For example, I just found out that I'm about to head out on a radio promotional tour that will take the greater part of the next two months to finish. Immediately after that, I leave for a twentycity tour that will be interspersed with an additional ten or so solo dates. All of this will take me right up to Thanksgiving, and today is only the Fourth of July! Within an instant, my summer and fall seem to have disappeared.
I'm keeping a cool, confident front with my manager and record company, but deep down this terrifies me. I don't want to leave home. I'm not looking forward to being away from the closeknit community I have developed here in town. I don't want to miss out on walks in the park or going out for Italian with my friends. And I don't want to skip an entire season of Sundayafternoon football or get back after the leaves have already changed and fallen. My friends have become my extended family, and it's unsettling for me to leave them again. The great big mother-fear is that I will be lonely. It is the overarching fear under which every other fear of mine falls.
Thinking about these things prompted me to leaf through my journals and read about the last thirty-five-city tour I took in the fall of 2001. Every night I would record my thoughts lying down, since the bunks on the bus were too shallow for anyone to sit up in (think coffin). The name of a different city headed each entry: White Oak, Texas; Lexington, Kentucky; Hastings, Nebraska; and on my birthday, some city in South Dakota that I forgot to note, probably because I was so sad about spending it there that I blanked it out altogether.
The prospect of traveling again feels so depressing to me. In fact, I feel a bit panicked. I'm not sure I want to go out and pound the pavement again, and then again, and then some more. I'm not looking forward to afternoons spent in bad hotels, or delayed flights when I'm desperate to get home, or cell phone calls that break up one-sentence exchanges into a thousand digital pieces. I want familiar faces and conversations with no interruptions — not, "Can you hear me now?" I want the comfort of my community. I want my own bed.
Perhaps my reactions are a little exaggerated, or perhaps this would be stressful for anyone. I've been living this vagabond, entrepreneurial lifestyle for too long to have an objective perspective on how "normal" my feelings are. But either way, they are still rooted in fear, and when it comes to fearing loneliness, I find it to be my Achilles heel. It has dogged me since childhood.
Have something to say about this article? Leave your comment via Facebook below!
advertise with us
Example: "Gen 1:1" "John 3" "Moses" "trust"
Advanced Search
Listen to Your Favorite Pastors