The Leadership Dynamic
Harry L. Reeder with Rod Gragg, Authors
Thursday, November 20, 2008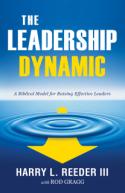 The first step for the church, from denominational headquarters to pastors facing the pews each Sunday, is to clearly define the biblical model of leadership. Initially that will require turning away from the unbiblical models of leadership that have infiltrated denominational literature, popular leadership manuals, and local church leadership training classes. Take a close and honest look at what is passing for leadership training in many modern American churches. First, promoting personal self-esteem is seen by many as the key call of the church. How wrong is that? A self-centered life is exactly the opposite of Christ's call to a God-centered life and the essence of Christian leadership, which demands a servant heart and sacrificial life. Today's focus on self-esteem is profiled not by Scripture, but by the current preoccupation with narcissism. It is "all about me," therefore Christianity is being repackaged and redefined as a self-absorbed system of self-esteem. Sadly, the love of self is deeply embedded in contemporary American culture, including the church, because we have embedded the leaders of the culture into the leadership of the church. We now face a generation of church members—and leaders—who are encouraged to constantly ask themselves, how good do I feel about myself? how good do you make me feel about myself? how good does the church make me feel about myself? and, by the way, how good does Jesus make me feel about myself? The church has succumbed to the secular cultural pressure of promoting self-esteem, instead of sharing the gospel call to die to self through a God-centered life, and if you miss the gospel-driven Christian life it is impossible to produce Christian leaders.
This counterfeit leadership training also encourages absorption with physical and material prosperity that can easily become idolatry. The salvation offered by Jesus Christ is thus perverted into a "prosperity gospel," defined by self-centered materialism that assures true believers that they will become healthy and wealthy if they only "confess it and possess it," "name it and claim it," or "believe it and receive it!" Where did this perversion of Christianity come from? Certainly not the Bible. The Word of God certainly promises that our God "will supply all your needs" (Phil.4:19, NASB)in Christ Jesus and, "I can do all things through him [Christ] who strengthens me." (Phil. 4:13, NASB). Why? So that I can be "poured out as a drink offering" (Phil. 2:17) and embrace the call of our Savior—"for me to live is Christ" (Phil. 1:21) and "it is no longer I who live, but Christ who lives in me" (Gal. 2:20).Through the self-absorbed teaching now passing for gospel truth in our churches, the true gospel of grace is blasphemously perverted. The result is that most Christians in contemporary culture have no concept of the biblical call to embrace suffering, sacrifice, and self-denial—which is not only a part of the Christian life-walk but, according to God's Word, is a gift and calling from our Lord to us. "For it has been granted to you that for the sake of Christ you should not only believe in him but also suffer for his sake" (Phil 1:29).When such basic elements of the gospel life and Christ's calling are perverted at worst and remain untaught at best, how can the church possibly respond effectively to the challenges of today's world, and how can it possibly develop leaders who lead as servants and who willingly sacrifice themselves for others? Finally, as misguided church leaders follow a worldly, self-directed model of leadership, the spiritual depth of believers and the stability of their local churches are steadily eroded. In the pulpit, "tips for living" talks now replace gospel-driven and Christ-centered sermons. Personality traits trump character, and happiness trumps holiness. Perception trumps reality, and even the most sacred calling of the believer, divine worship, is replaced by personal entertainment. The congregation becomes the audience of spectators at the worship event. They arrive for the worship experience provided by the preacher and worship leaders, who are the primary actors, with God fulfilling the role of the set-up man. Not long ago, the church would have called this blasphemy. Today, we call it seeker-centered worship.
Have something to say about this article? Leave your comment via Facebook below!
advertise with us
Example: "Gen 1:1" "John 3" "Moses" "trust"
Advanced Search
Listen to Your Favorite Pastors