The Leadership Dynamic
Harry L. Reeder with Rod Gragg, Authors
Thursday, November 20, 2008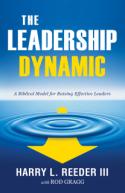 In contrast, true worship has an audience of One—the triune God. But not only does he receive our worship, he enters into it by providing the presence and power of the Holy Spirit who enables us to worship with passion for the praise of God. Too often today the biblical mandate to "worship the Father in spirit and truth" (John 4:23) is being replaced with a self-directed question: "How did that worship experience make me feel?" The result is that the divine service of worship has now become the human service of entertainment, and the focus is on the worshiper rather than the One who is to be worshiped. In reaction to this worldly trend, other congregations have descended into thoughtless traditionalism—steadfastly devoting themselves to comfortable, traditional worship practices with an exclusive fierceness that unwittingly promotes form over substance. Knowing how to worship God in spirit and truth while embracing seekers, teaching new believers, and encouraging mature Christians requires godly leadership and is necessary to produce more godly leaders. Godly leaders are grown from the Word of God empowered by the Spirit of God as an inevitable result of God's grace—but they will not be raised up from today's corporate model of leadership, which has been baptized into the church.
To regain a biblical vision of leadership we must first regain lost ground by repenting of the thoughtless infusion of popular culture into the church life and leadership and also repenting of the absence of a biblical response to it. We must step back and turn away from popular trends and man-centered preoccupations while seriously surrendering to God's model of leadership found in Scripture. We have allowed the valid need of cultural contextualization to descend into cultural capitulation. The Word of God is not silent on leadership or how to develop and deploy leaders. God's Word is clear, and we must embrace the biblical vision, reclaiming the church as a leadership factory and distribution center by prioritizing the disciple-making task of defining, developing, and deploying Christian leaders in the American church.
An Immodest Proposal: 3-D Leadership
How do we begin? When we've turned away from all the worldly models of leadership and the thoughtless imposition of man-centered leaders and leadership, what do we do next? How do we identify and implement biblical leadership in our denominations and local congregations? The answer: instead of following the whims of the world and the "spirit of the world" (1 Cor. 2:12), we must intentionally pursue a strategic commitment to three initiatives drawn from the timeless truth of God's Word and verified throughout history. I call these initiatives the "Three Ds" of biblical leadership: first, we must clearly define biblical leadership; second, we must develop godly leaders; and third, we must strategically deploy those leaders in the church and around the world.
Define
Having "put off" unbiblical worldly leadership we are now positioned to "put on" biblical leadership within the church. So let's define biblical leadership. An easy task, right? Actually, this is no small challenge because the truth of God's Word on leadership has been ignored, muted, or discarded in recent decades. A century ago—maybe even a generation ago—such biblical concepts as "many who are first will be last, and the last first" (Mark 10:31) were instantly understood and acknowledged by the people in the pews. No more. A lack of sound, systematic, biblical disciple making has produced contemporary congregations that are shockingly illiterate biblically. Thankfully, many want to be taught; many have a zeal and hunger for the truth. Furthermore, there is a hunger and longing for authentic leadership not only in the church today but also in the world. So the challenge is also an opportunity; existing leaders who have a passion for faithful and effective genuine biblical leadership can transform their congregations into leadership factories and distributions centers.
Have something to say about this article? Leave your comment via Facebook below!
advertise with us
Example: "Gen 1:1" "John 3" "Moses" "trust"
Advanced Search
Listen to Your Favorite Pastors