The Leadership Dynamic
Harry L. Reeder with Rod Gragg, Authors
Thursday, November 20, 2008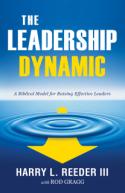 Doing so will no doubt demand a thoughtful and patient commitment. Biblical leaders must be sacrificial leaders, servant leaders, courageous leaders, beneficial leaders, nurturing leaders, combat leaders, compassionate leaders, and visionary leaders. They must be all of this—and through the sovereign grace of God, they can be. And when they put that kind of biblical leadership into practice, hearts and minds in the church will change. It's the "body of Christ"—that's how Scripture primarily pictures the church (e.g., 1 Cor. 12:27)—and the church will respond to the call of leadership reformation. The response will be a renewal of authentic unity—a unity of calling, a unity of salvation, a unity of the inspired Word of God, a unity in one Lord, one faith, one baptism. And this renewal of unity will also encourage a harmonious diversity of callings, passions, gifts, and abilities within the body of Christ.
There are two Greek words for time used in the Bible: kairos and chronos. Chronos denotes the chronological passing of time while kairos denotes a season or opportune moment of time. The kairos leadership moment is now, and the church must not falter.
As we define biblical leadership in the church, we should move simultaneously and strategically to define it for the world. We need to fully reverse what we have been doing. Instead of receiving the world's leaders defined and developed by worldly leadership models, the moment has arrived to define godly leadership for a cynical world and develop godly leaders who can be thoughtfully deployed into the world according to their God-given passions and desires. This is the moment to regain lost ground. There is a vacuum of good leadership, and a despair and cynicism about leadership. Notice, I did not say there is a vacuum of leadership but a vacuum of good leadership. God has called us to produce and propagate leaders who will be salt and light and bless society with courageous, trustworthy, and beneficial leadership. It has happened in history and has been demonstrated by the American church in centuries past. We must not drop the baton of biblical leadership disciple making that overflows into society, penetrating it with grace and truth.
Develop
When the biblical model of leadership is defined in our churches and denominational headquarters, then a new generation of leaders can be developed by disciple making. As the American church again comprehends what God expects of leadership, a new wave of leaders will arise—leaders who have been transformed by a biblical understanding of their task. And because biblical leaders by definition are multipliers, they will develop more leaders—leaders who have been mentored in God's church for distribution into the world: transformed leadership transforming others just as they themselves have been transformed, with each one multiplying and reproducing again and again and again. That's how God's leadership model works. We must reclaim this model again, and we must do it now.
Deploy
After the church has defined the biblical model of leadership and has begun developing leaders based on that model through leadership disciple making, then the church must be ready to deploy these emerging leaders into the world. Every institution of our contemporary culture should be influenced by these transformed leaders, who will be armed with the gospel of Jesus Christ, the truth of God's Word, and the love of Christ. If the biblical model of leadership disciple making is followed, Christian leaders will of necessity be deployed into every honorable sphere of society. These Christian leaders will be deployed according to their God-given gifts, talents, and passions. If some of these new leaders are in business, they will become Christian business leaders. If some are parents, they will produce Christ-centered families. If a leader is a husband, he will be the spiritual leader of his wife in Christ. Leaders in law enforcement and the military will understand how to protect those in their care and carry out their responsibilities with a biblical perspective. Christian attorneys will be prepared to advocate the cause of justice based on the historical Judeo-Christian worldview and will strive to restore a once-noble calling back to a position of respect. Elected officials and other officeholders will be equipped to exercise biblical leadership for the general welfare of society, and thankfully statesmen will replace politicians.
Have something to say about this article? Leave your comment via Facebook below!
advertise with us
Example: "Gen 1:1" "John 3" "Moses" "trust"
Advanced Search
Listen to Your Favorite Pastors