The Leadership Dynamic
Harry L. Reeder with Rod Gragg, Authors
Thursday, November 20, 2008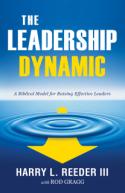 Contemporary culture would be transformed in an amazingly rapid span of time. The twentieth-century shift in American worldview from God-centered to man-centered could be reversed. What an exceptional gift of grace—from the risen Christ through his church. But we cannot have it both ways. Either we lead according to the world or we lead according to the Word. Those are our only choices. "Do not be conformed to this world, but be transformed . . ." (Rom. 12:2). The American church can step back from the edge of oblivion and avoid the deadly free fall that now faces us. Or not. By the grace of God, we still have time, and it is an opportune moment in time. An open door is before us. The failure of worldly leadership has demoralized our culture—so the church today is being offered a marvelous opportunity. By the grace of God, we can and we must seize the moment.
The book of Acts tells us that when Christian leaders such as Paul and Silas carried the truth of God's Word into the heart of the first-century Greco-Roman culture, they were met with this cry: "These men who have turned the world upside down have come here also" (Acts 17:6). How I would love to hear those words said one more time. Our problem, observed C. S. Lewis in The Weight of Glory, is that "Our Lord finds our desires not too strong, but too weak."1 The Word of God drives home that point with even greater simplicity in Philippians 4:13: "I can do all things through [Christ] who strengthens me." Through the love of Jesus Christ, we are called by the God of the Bible to wrestle to the ground the death and decay that now cloak our culture. And his leadership manual stands ready and available. The cultural death spiral can be stopped, reversed, and transformed by gospel-driven and Christ-centered Christian leaders.
Define. Develop. Deploy. "Go therefore," God orders us, "and make disciples" (Matt. 28:19).
Now, what would these world-shaking leaders look like, where would they come from, and what would they do?



The Leadership Dynamic: A Biblical Model for Raising Effective Leaders
Copyright © 2008 by Harry L. Reeder III with Rod Gragg
Published by Crossway Books, a publishing ministry of Good News Publishers
1300 Crescent Street Wheaton, Illinois 60187
Have something to say about this article? Leave your comment via Facebook below!
advertise with us
Example: "Gen 1:1" "John 3" "Moses" "trust"
Advanced Search
Listen to Your Favorite Pastors