The Moment Between
Nicole Baart, Author
Tuesday, June 02, 2009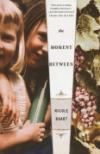 EDITOR'S NOTE: The following is an excerpt from The Moment Between by Nicole Baart (Tyndale House).
Abigail Bennett was the definition of unexpected. She was one year on the wrong side of the knife blade that was thirty, but if she turned up at your restaurant and ordered a glass of wine, even high-heeled and clad in a black sheath, you'd card her every time. Petite and narrow-waisted, with a pixie flip of hair the exact color of coffee beans, Abigail could easily pass for sixteen in a pair of ripped jeans and an Abercrombie T-shirt.
Not that she liked looking younger than her age. In fact, most of the time Abigail hated the constant reminders that no matter what she did or where she went, she would not be taken seriously. This explained the harsh line of bobby pins that held her wayward hair out of her face as if the severity of it could add years. It also explained the almost-dowdy clothes, the earth-toned makeup, and the hard, thin line of a mouth that could have been very beautiful.
Once people got past the fact that she wasn't a teenager, Abigail looked very much like the ideal kindergarten teacher. Her stature and dress were the opposite of intimidating, yet there was a spark in her dark eyes as if from time to time a match was struck behind the velvety chocolate of her corneas. These eyes could freeze hell over with a well-timed look, a piercing arrow of unmistakable meaning. But there was also the hint of tenderness in Abigail that translated into quiet strength when paired with the sharp edges that were inevitably unveiled before anyone had a chance to form a false opinion of her. But then again, maybe it was all a facade. She didn't let people get close enough to find out.
In reality, Abigail was not a kindergarten teacher, nor could she remember a phase in her life when she ever wanted to be one. She was an accountant. Numbers were stable, unchanging, and best of all, incapable of being mysterious or of forcing people to act and think and feel in ways that they would not normally act and think and feel. Numbers were predictable; people were not. And because Abigail trusted the reliability of her chosen field, she was good at her job, meticulous and capable of holding the smallest detail in her mind for as long as it was useful.
During tax season Abigail worked more hours than anyone else at her firm, and that was saying a lot. It was why she was made a partner after only five years with the company and why she occupied one of two corner offices, the one with a view of the swampy man-made pond that graced the complex of professional stucco buildings on Key Point Drive. Johnson, McNally & Bennett was a Rosa Beach institution, and though Blake Johnson and Colton McNally could claim most of the honor behind their prestigious position in the community, Abigail knew she filled an important and indispensable role. Southern Florida had its share of widows and divorcées, and for some not-so-surprising reasons they preferred to have a woman handle their money. Abigail was happy to oblige. It kept her busy and the firm in business.
Keeping busy was what Abigail did best. When she wasn't working, which averaged sixty hours a week, she was either running or reheating days-old Chinese takeout in a dented wok. Both activities were little more than a personal experiment; they were representative of the only two things in Abigail's life that she really, deep down hoped to accomplish someday: run a marathon and learn to cook.
The marathon was a goal that she had already partly achieved. On the day of her twenty-ninth birthday, she ran a half marathon in Miami. Abigail could have easily completed it, and in fact, the finish line was in sight only two blocks ahead when she realized it was enough to know that she could do it. Crossing the finish line would have meant that she ran for someone else, that she ran for the glory, the recognition.
Have something to say about this article? Leave your comment via Facebook below!
advertise with us
Example: "Gen 1:1" "John 3" "Moses" "trust"
Advanced Search
Listen to Your Favorite Pastors