The Moment Between
Nicole Baart, Author
Tuesday, June 02, 2009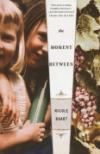 So Abigail had slowed down a little and then a bit more until someone thrust a cup of water in her hand and yelled, "You're almost there!" She smiled her thanks, sipped the water, and folded herself into the crowd while all eyes were watching the other runners throw their arms into the air for the last few triumphant yards.
The cooking, on the other hand, was little more than a pipe dream. Abigail's greatest accomplishment was adding a diced chicken breast and some soy sauce to leftover chicken chow mein. It was too salty. But propped on her counter in an antique, wrought-iron bookstand was a Williams-Sonoma cookbook with full-color photographs and extensive instructions on how to cook homemade delicacies like potato gnocchi with wild mushroom sauce and baked clams with pine nuts and basil. Every morning, while she waited for the last few drops of coffee to drip into her Gevalia carafe, Abigail would thumb through the glossy pages of the cookbook and imagine what it would be like to make a wine reduction sauce as the sound of laughter filled her apartment. Someday, she told herself.
And though there were many somedays in Abigail's life, she tried not to let the particulars of her existence get her down too much. It didn't matter that she didn't have a boyfriend. It didn't matter that every day plodded on with the same pitfalls and small successes. It didn't matter that her apartment was quiet but for the hum of her empty stainless steel refrigerator. It was the life that Abigail had chosen, and she was a grim optimist, resigned to the path she was on—she was getting exactly what she had always wanted. So what if it was tilted heavily toward work, personal discipline, solitude? So what if it left little room for the things other people craved? So what if her cupboards were as bare of exotic ingredients as her apartment was bare of cheerful company?
But sometimes, alone in her apartment with the shades drawn tight, Abigail would stand in front of the full-length mirror on the back of her bathroom door and relax enough to admire what she saw. Tousling her wet hair and practicing a self-conscious smile that showed her teeth—her impossibly white, perfectly straight teeth that were a genetic legacy instead of the result of extensive dental work—Abigail could almost pretend that she was ten years younger and that the world was unfurling itself before her.
For those moments in the steam and warmth, dark ringlets of hair curling around her temples as if she were some Grecian empress, Abigail wished much more for herself than what she had. She wished that she could rewind the clock and find Abby, the girl she used to be, perched on the cusp of her life instead of entrenched in the middle of it with no apparent way out.
Every once in a while, she could gather the courage to admit that it would be a very different life if she had it to do all over again.
***
When Abigail first came to Johnson & McNally, she had a chance at a different life.
It was no secret around the office that Colton McNally had a thing for the new accountant. He was twelve years older than Abigail and divorced, and that seemed somehow estimable according to Abigail's less-than-high expectations. It wasn't that she would settle for just anyone, but she also didn't enter into much of anything with a long list of prerequisites.
In truth, Abigail found Colton very attractive. She thought his salt-and-pepper hair was distinguished—even though she suspected it came from the hands of a very talented colorist as he wasn't quite forty—and she liked the way his tailored suits fell across the straight line of his shoulders. Best of all, he was nothing like the immature, self-absorbed boys Abigail had dated in college. They had nearly turned her off of men altogether. So when Colton turned his attention toward her, Abigail let him flirt. For a while, she even stopped wearing the stern bobby pins so that her dark curls framed her rather nicely arched forehead.
Have something to say about this article? Leave your comment via Facebook below!
advertise with us
Example: "Gen 1:1" "John 3" "Moses" "trust"
Advanced Search
Listen to Your Favorite Pastors