The Moment Between
Nicole Baart, Author
Tuesday, June 02, 2009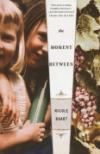 Passing him the papers, Abigail lowered herself to balance on the arm of one of the leather chairs facing the wide, black walnut desk. But Colton raised an eyebrow at her, motioned that she should cross behind the desk to stand beside him.
They had flirted before, secret half smiles conveyed across crowded rooms and careful conversations littered with possibilities. And it seemed that the unmistakable chemistry between Colton and Abigail was a favorite topic around the watercooler, boasting far more people in favor of a match than against it. It was impossible for Abigail not to get caught up in it a little. But she also couldn't help being cautious, and suddenly, with the door closed and Colton looking far more handsome than she remembered from only the day before, she knew that he was a man who wouldn't play games for long.
Colton waved her over again and Abigail moved slowly, explaining about the nonresident and his recent payout from a life insurance death benefit. She had just gotten to the part where he intended to give enough of it away to slip below the line of taxable income when Colton grabbed her wrist and, in one smooth movement, pulled her forward until her face was inches from his. He studied her, still smiling, then kissed her full on the mouth as if he had been intending to do so for a long time.
It wasn't that Abigail didn't want to kiss him back. Actually quite the opposite. It wasn't even that she was stunned by the inappropriateness of such a gesture. Instead, it was a Tic Tac that ruined everything, a burning little grain of peppermint that she inhaled when Colton's lips touched hers.
She drew back, pulling out of Colton's embrace and coughing violently until tears collected at the corners of her eyes. Abigail struggled for a moment, choking mutely as she watched Colton bolt out of his chair and grab her upper arms. When the breath mint was dislodged from her throat and she could feel it hot and peppery on her tongue, she knew it was a very small thing that would be significant in ways that might cause her years of lament.
"I'm sorry," Abigail murmured, utterly mortified for one of the first times she could remember. "I . . ." She couldn't continue.
Colton stared at her, concern and disbelief gathering foglike across his forehead. At first, Abigail thought he might fold her into his arms, that the almost-pitiable comedy of what had just happened would become the sort of story they laughed about months down the road when they told people the tale of how they came together. But then Colton laughed, rubbing his hands up and down her arms. The moment shattered and fell away, disappearing in a shimmer of doubt that made Abigail wonder if she had merely dreamed it.
"As long as you're okay," he boomed. And then he sat back down and pretended nothing had happened. He never mentioned it again and neither did she.
Eighteen months later, Colton married Marguerite, the receptionist who was hired at the same time as Abigail. Marguerite was a few years younger than Abigail, but she looked much older due to a succession of bad dye jobs and what appeared to be a lifetime of sun damage spotting her skin. Colton seemed happy; from what little Abigail could discern of her boss's marriage, he genuinely longed for companionship and Marguerite's horselike laugh didn't turn him off so much that he considered her a poor match.
Although it was against her nature, shortly after the happy couple's beach wedding, Abigail went through a brief stage where she fixated on what might have been. The entire office had once been invited to Colton's sprawling house only a block off the ocean, and Abigail could almost picture herself the mistress of his columned colonial. What sort of a woman would she be if she were Mrs. McNally? What would she look like offering guests a second martini and lounging in some bright sari that she had bought on their honeymoon in Belize?
Have something to say about this article? Leave your comment via Facebook below!
advertise with us
Example: "Gen 1:1" "John 3" "Moses" "trust"
Advanced Search
Listen to Your Favorite Pastors