Veiled Freedom: A Novel
Jeanette Windle, Author
Friday, June 05, 2009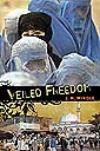 "Yes," Steve responded. "Though when I left Afghanistan, Khalid was up to his neck in local politics, nothing like this."
"Sure, as a matter of fact, Khalid's still governor of his home territory up in Baghlan. But like most of the muj commanders, he picked up a cabinet seat when the new government was signed in. Minister of commerce, originally. But he's played his cards right, and when the minister of counternarcotics threw in the towel a couple years back, Khalid was in the right place and time to take over there. In fact, since counternarcotics is also the biggest department within the MOI itself, most locals figured Khalid would move up to minister of interior when his predecessor got the boot. But with the West screaming for a housecleaning, they brought in a complete outsider."
Cougar's shoulders hunched under his tactical vest. "Well, Khalid's got the job now, and it's our responsibility to keep the guy alive. The contract's a level one three-month renewable personal security detail. We should have on hand most equipment you'll need. Ditto, transport. Scrambling a team wasn't as easy on such short notice. But the bunch that flew in this morning are pretty decent. Their bios are in that packet. All Special Ops, all with security detail experience. Navy SEAL. Ranger. Delta. SAS."
Steve's attention shifted from data sheets to the windshield as the militarized airport zone gave way outside to bustling streets. Kabul had changed since he'd last passed this way—and it hadn't. Steve wasn't sure which was worse.
The biggest change was congestion. Vehicle traffic must have multiplied ten times over without a corresponding expansion of the street system. If there were traffic lanes or even sidewalks, no one was taking them seriously. Toyota Corollas, wood-framed trucks, motorcycles, and mule carts oozed through swarming pedestrians and street vendors. Late-model SUVs, mostly white, bore acronyms on doors and roofs. Agency vehicles of the numerous Western government and aid organizations now making Kabul their home.
"The two security zones are Khalid's personal residence and the Ministry of Interior," Cougar continued. "The residence's already in a high security district, but the MOI building's smack downtown."
City limits too now crawled much farther up the mountain flanks. Construction was still largely mud brick, but the glitter of Kabul's new business skyline thrust itself like misplaced jewels above a haze of dust and smog. The Mashal Business Center, all futuristic blue glass and chrome. The five-star Serena Hotel rising like a sultan's palace on a busy intersection. The Safi Landmark shopping mall where, according the welcome packet, any number of trendy restaurants offered foreign cuisine and forbidden alcohol.
Who in this dirt pile has disposable income to support this kind of infrastructure?
Cougar pointed at another new glass and brick department store. "Kabul isn't the hardship post you all rolled into. Anything you want, some Afghan will have started an import outlet. The expat social scene's pretty decent too. Mostly in what we call the green zone—Wazir Akbar Khan, Shahr-e Nau, and Sherpur districts—where security's tight enough you don't have to worry about locals crashing the party. Or some mullah screaming over Jack Daniels or bikinis. Stay here awhile with all those burqas, and you won't believe how good any woman in a bikini starts to look."
Steve grunted. Astonishingly, the burqas hadn't changed. He spotted numerous headscarves, many of them expatriates by their features, as well as the more enveloping black chador. But the burqa remained the female norm, flitting like silent white or pale blue ghosts through an overwhelmingly male pedestrian mob, the face panels thrown triumphantly back when he'd last been in these streets now firmly in place.
Have something to say about this article? Leave your comment via Facebook below!
advertise with us
Example: "Gen 1:1" "John 3" "Moses" "trust"
Advanced Search
Listen to Your Favorite Pastors