Veiled Freedom: A Novel
Jeanette Windle, Author
Friday, June 05, 2009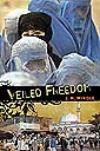 The commercial district wasn't the only construction boom. Steve counted the third rounded dome and tall minaret the SUV had passed in the space of five minutes. This one was a massive complex, gleaming with sparkling new mosaic tile. Behind it rose a series of five-story buildings Steve had assumed to be a housing development until he saw that the mosque's perimeter wall enclosed them.
Cougar caught his stare. "Really something, isn't it? That's a new Shiite madrassa built by Iran. Bigger than the university. New mosques have been going up all over Kabul, mostly donations from other Muslim governments."
"Useful outlay of aid funds," Steve commented sardonically.
Cougar shrugged. "We build malls; they build mosques."
For all the city's new infrastructure, the acute poverty Steve remembered seemed little diminished either. They'd passed miles of hovels clinging to hillsides like human-size termite cells. How did people live without running water, sewage, or electricity? As for that apartment complex mujahedeen rockets had ripped open, Steve could swear it hadn't been touched in all these years. Then he spotted plywood and plastic tacked down across a concrete cubicle, a burqa hauling a bucket up a shattered staircase. People were living in that ruin!
Beggars remained everywhere. Men missing limbs squatted on sidewalks or negotiated traffic on wheelchairs crafted from bicycle tires. Women in burqas exposed a cupped palm at intersections, small, ragged children at their skirts. Nor in the glut of automatic weapons and armed vehicles did Steve see any indication of a country at rest from war. It wasn't just the ISAF convoys with their armored Humvees and turret guns. A dozen different uniforms belonging to the Afghan police, army, or hired security firms roamed sidewalks, stood guard at intersections and outside buildings, and crouched behind sandbags on the tops of walls.
And I thought we'd freed this place.
Just what did those war victims in their wheelchairs and burqas scrabbling for a daily food ration, the shopkeepers and street vendors with their watchful eyes think of the new Afghanistan he'd helped create? or of the Westerners flooding their city with new cars and shining towers and shopping malls and restaurants few Afghans could ever afford to enter? for that matter, of those equally ostentatious new domes and minarets that did nothing to put food on their tables?
Steve felt a sudden weariness that was not from jet lag. Why did I come back here?
Because it's safer than Iraq, and the money's even better. I was tired of being shot at, remember? After all, who was Steve to sneer when his own latest contract would net him five times what he'd ever earned as a proud member of his nation's Special Operations Command?
From Veiled Freedom. Copyright © 2009 by Jeanette Windle. Used by permission of Tyndale House Publishers, Inc., Carol Stream, Illinois 60188.
Have something to say about this article? Leave your comment via Facebook below!
advertise with us
Example: "Gen 1:1" "John 3" "Moses" "trust"
Advanced Search
Listen to Your Favorite Pastors