Pete's Christmas is Stuck on Repeat… and You Can Feel Every Minute
Debbie Holloway, Assistant Editor, Crosswalk.com
Friday, November 08, 2013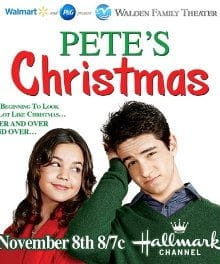 Airing: Friday November 8th, 8/7c on the Hallmark Channel
Rating: PG
Genre: Family
Run Time: 86 minutes
Director: Nisha Ganatra
Cast: Molly Parker, Racine Bebamikawe, Peter DaCunha
There are some timeless Christmas movies which never seem to lose their charm. It's a Wonderful Life takes a suicidal George Bailey and reminds him that he truly does make the world a better place. A Christmas Story pokes fun at holiday traditions and childhood drama through the quirks of an off-beat family. Home Alone takes a stellar cast and witty script and blends it perfectly with an outstanding soundtrack for a fun-filled romp.
The upcoming Hallmark original Pete's Christmas, unfortunately, is not one for the record books. Some raw elements are present, for sure. The actors seem capable, the story is one that -while nothing adults haven't seen before- could certainly be fun for kids, and the themes are applicable to families gearing up for the often stressful Christmas season. Unfortunately lackluster direction, bewildering character development, and mixed-messages in the script bring the enjoyment level considerably down.
The movie begins by introducing us to Pete Kidder (Zachary Gordon), a frustrated 14-year old nestled between a jock older brother and a whiz-kid younger brother who steal all the attention from his overworked, somewhat oblivious parents. Just when holiday tensions are highest, Mr. Kidder's grumpy father shows up unexpectedly for a Christmas visit. As we make our way through Christmas day, Pete is thrown curve ball after curve ball, culminating in what is definitely his worst Christmas ever.
Then, through a mysterious (and somewhat unspecified) chain of events, Pete wakes up the next morning and begins experiencing Christmas day all over again. At this point, a more enjoyable film to pop in might be Groundhog Day, because Pete's Christmas (already riding on cheesy lines and alienating characters) starts to really spiral here.
At a glance, the rest of the film shows Pete re-living Christmas again and again (probably at least 50 times) and trying to figure out what it all means. His panic and confusion eventually deaden into dread and apathy, which in turn give way to his desire for (very G-rated) revenge and self-indulgence for all the times he's been glossed over or wronged. Finally he learns to make the most of his repeating day by focusing on self-improvement, doing good works, building relationships, and helping others.
Certainly not an out-there plot for a family-oriented Christmas movie. But getting to the lessons and morals is a bit like pulling teeth. There are many small irritants, like nonsensical lines; Mr. Kidder at one point references that making a turkey for Christmas dinner would be the "simple" choice for their busy day – which I'm sure will provoke laughs from anyone who's actually prepared a holiday turkey. More eye-rolling moments would include actors who don't seem to know how to make the right faces for their lines (Bailee Madison as Katie is a big culprit here), very unnatural reactions to somewhat normal occurrences (Pete accidentally puts a modest rip in his khakis by catching it on the fence, and the neighbor girl who catches him unaware screams like she's seen a ghost), and frustratingly obtuse characters.
And of course, I get it. Characters always seem to have intelligence more on par with children in these sorts of movies. But Pete genuinely stumbles through dozens of repeated Christmases before he decides to change anything about his choices – and it isn't til nearly the end of the film that he decides to try to be selfless and make the day better for his family and neighbors, and even then that's only at the prompting of others. For a protagonist, he's a bit dreary. Almost every revelation he has in the entire movie is spelled out to him by either his Grandpa, his neighbor, or his little brother.
Recently on Movies at Home
Have something to say about this article? Leave your comment via Facebook below!
advertise with us
Example: "Gen 1:1" "John 3" "Moses" "trust"
Advanced Search
Listen to Your Favorite Pastors