Shakespeare's "Twelfth Night" Retold in "She's the Man"
Annabelle Robertson, Entertainment Critic
Friday, July 21, 2006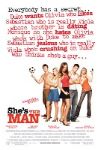 DVD Release Date:  July 18, 2006
Theatrical Release Date:  March 17, 2006
Rating:  PG-13 (for sexual material)
Genre:  Comedy/Romance
Run Time: 105 min.
Director:   Andy Fickman
Actors:   Amanda Bynes, Channing Tatum, Laura Ramsey, Robert Hoffman, Vinnie Jones
Oh, boy!  It's the Bard, in another high school drama.  Would he be dismayed?  Probably not.  After all, even though it's all about teenagers, all is well that ends well.
When her tony high school dissolves the girl's soccer team, Viola Hastings (Amanda Bynes) is devastated.  An excellent athlete who plays center forward, Viola asks if she and her friends can try out for the boy's team.  Not only does the coach refuse, but Viola's boyfriend, Justin (Robert Hoffman), the team's captain, also disses her soccer skills – in public.   Mrs. Hastings, Viola's mother (Julie Hagarty), is delighted that her tomboy daughter won't be playing soccer anymore.  She just wants Viola to put on a dress and make her debut.
So when Viola's twin brother Sebastian sneaks off to London for a couple of weeks (he's in a rock band, and their parents are divorced and clueless), Viola decides to impersonate him at his new prep school.  With the help of a gay hairdresser friend, she arrives in time for soccer tryouts and moves into Sebastian's dorm room – right next to Sebastian's hunky roommate, Duke (Channing Tatum).  But, even dressed as a boy, Violet isn't quite good enough to make the soccer team's starting lineup.  Fortunately, she's paired with Duke's crush, Olivia (Laura Ramsey) in biology.  Olivia has no interest in Duke, but Viola offers to put in a good word for him, in exchange for some advanced soccer training.  The only problem is, Olivia is falling for Violet/Sebastian – and Violet is falling for Duke.  And then there's the matter of Sebastian's ex-girlfriend, Monique (Alex Breckenridge), who keeps poking around.
Sound familiar?  It should.  "She's the Man" is a modern retelling of Shakespeare's comedy, "Twelfth Night," set – as they all seem to be, these days – at an expensive private school.  Written by Karen McCallah Lutz and Kirsten Smith, who penned "Legally Blonde" as well as another Bard-goes-teen hit, "10 Things I Hate About You," this film isn't quite as good as either of their previous efforts.  It's not terrible, though – especially if you're a teenager who enjoys watching pretty girls and guys.
It does stretch credibility.  Although the former Nickelodeon star ("What a Girl Wants") does a decent job with her 'two' roles – especially the back and forth switches – Bynes is not particularly believable as a boy.  She looks barely old enough to be in junior high, and it's nearly impossible to believe this sprite could compete with 26-year-old guys (the age of the two main male actors, in real life).  And, while it's supposed to be funny when Violet deepens her voice, she comes across as a bizarre mixture of hillbilly meets gangsta meets Desi Arnaz.
I also had a problem with Andy Fickman's (TV's "Reefer Madness: The Movie Musical") decision to portray Violet as ill-mannered and rude at a Junior League meeting, where she eats as if she's never even seen a silver spoon – much less been raised with one in her mouth.  It's yet another way that this director caters to the kids, which will leave a lot of adults rolling their eyes.  At least he's left out the scatological humor.
Recently on Movies at Home
Have something to say about this article? Leave your comment via Facebook below!
advertise with us
Example: "Gen 1:1" "John 3" "Moses" "trust"
Advanced Search
Listen to Your Favorite Pastors