Wading through Singleness in Single Creek
Laura MacCorkle, Senior Editor, Crosswalk.com
Thursday, June 02, 2011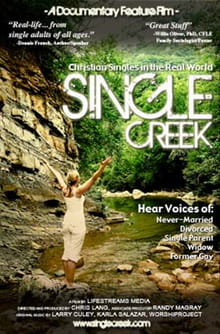 Singles. They're not like the others. So what do you do with them, right?
Many single adults are never married but eager to change that as soon as possible. Some struggle with same-sex attraction but remain celibate. Others are parents with children born out of wedlock. And whether due to divorce or death, more and more are now single again.
Director-producer and Lifestreams Media founder Chris Lang didn't give the different forms of singleness too much thought until he himself experienced second-time singlehood after his own divorce some years ago. As he reentered the single waters, he soon found that it wasn't as smooth and easily navigated as some might think. He also discovered that many churches are either unequipped or uninformed when it comes to meeting the needs of singles in their congregations today.
But with 45 pecent of all U.S. households comprised of single adults, shouldn't singleness be somewhere on a church's priority list? Should singles be considered "the least of these" since they don't fit in with "the norm" when it comes to a husband, wife and 2.5 kids? And what can singles do to feel connected and get involved with other believers in their communities of faith?

In his groundbreaking documentary Single Creek, Lang, who is also host of the young adult talk show, Hope on Fire, interviews singles of all walks of life as he explores these issues of singleness and how and where single adults fit in the body of Christ in today's church. Once married and now divorced, widows, single parents, never marrieds and those who have left the homosexual community, they're all represented here in this fascinating look at what singleness is all about in the twenty-first century. Singles won't be too surprised by what is shared here, but will certainly take away renewed hope, encouragement and perspective. And marrieds, Lang says, will hopefully see into the hearts of their single brethren and know what it means to live lives not defined by marital status but in pursuit of peace and contentment in God's will.
I spoke with Lang recently about his documentary and the very revealing, yet sensitive, interviews he was able to secure from singles of all ages and life spaces in Single Creek ...
---
What led you to make Single Creek and why did you feel there was a need for a documentary such as this?
I went through a divorce, and that was a number of years ago. And I host for a TV talk show for young adults called Hope on Fire. We had just finished last season, and I was praying about what God wanted me to do with the rest of my time in 2010. And my local pastor had called around that same time and asked me if I would be a singles ministry pastor for the local church I attend [in Orlando, Fla.], and that felt kind of awkward to me for a couple of reasons. One is single adults don't necessarily want to be defined by their marital status and two, I felt strongly that God's call on my life was to do films and television, not in an administrative role in a local church. So I was struggling a little bit about whether that was God's voice calling me to do something else other than what I thought I had been called to do.
And to make a long story short, I asked the pastor if I could pray about it for about 30 days. And so basically I just felt that by the end of that period that the Holy Spirit was convicting me that it was okay to pursue a film about this topic. And really the fleece that I put out for God was if you want me to do this, please provide the funding that we need to buy the equipment we needed. God led me to some people that had a passion for singles ministry. They wrote donations, checks for exactly the amount we needed to go and do this project. So it's clearly God leading on this journey. As a result, we had not only a local church that was going to hire me as a singles ministry pastor, they purchased the documentary as a way of ministering to single adults in that church. And so instead of just ministering to that local church, God's opened doors to hundreds of churches that are buying the Single Creek DVD to minister to their local congregations and not just singles, but as you know the awkwardness is that [the church] is marriage and family centric which is a biblical concept.
Recently on Movies at Home
Have something to say about this article? Leave your comment via Facebook below!
advertise with us
Example: "Gen 1:1" "John 3" "Moses" "trust"
Advanced Search
Listen to Your Favorite Pastors