Wading through Singleness in Single Creek
Laura MacCorkle, Senior Editor, Crosswalk.com
Thursday, June 02, 2011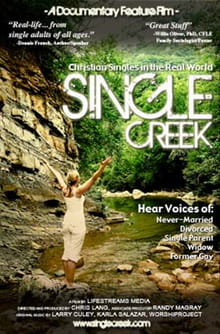 And then we'd been interviewing her almost two hours when those scenes of her weeping happened. That's how long it takes for some people … it's almost a surreal experience. You almost see them stepping out of their protective mode and looking down on themselves, if that makes sense, but not a mystical thing, but perhaps just a moment where they recognize, "You know what? I'm not really being real." And I asked her, "Does it feel safe in church to you? Does it feel safe to you in the church to share your broken places?" And at first she was saying, "Yes, it's supportive, there's a circle of believers around me." But I said to really make this personal and kept pushing because it seemed like she couldn't really be that happy all the time. And that's what was so astounding to me, because you could see her stop and there was this long pause and she said, "Well now that you say it that way from a personal standpoint …" And you could just see her eyes start to get wet and then she started sharing how she was begging God to take this away and just like weeping. And you know it went on for five minutes. When I was going through for three months all of these 50 hours, I wept every time I looked at [her interview]. It was so real, it was so raw and perhaps there are parts of it that we'll post on our Single Creek Web site, so that people can see more of that part of the interview because you only see a very small part where she just opened up.
Is the end goal of this documentary to get it into as many churches as possible to encourage and inform people and to have study groups or discussion afterward?
Absolutely. It's really a two-pronged plan that we're praying over. We've actually produced two different versions of the DVD from the documentary. One is for home use, a home edition for people who minister with their friends in their homes, and the other is for churches. The church edition has a bunch more stuff on it. I co-wrote two study guides that are in the church edition with Dennis Franck who is the director of singles ministries for the Assemblies of God denomination, based in Springfield, MO. Dennis is in the film as you may have noticed. Dennis has been in singles ministry probably the longest of many active church leaders in the Protestant denominations in the world. He's been doing this for 30 years now.

He said, "When I saw Single Creek, I realized God used you this year. In my 30 years in single adult ministry, no one in any denomination has ever done a film like this." I was astounded and humbled that he recognized Single Creek as blessed by God for the purpose of inspiring and educating the church. And so when we released the DVD he asked me if he could help distribute it as he travels around doing his seminars not only in the Assemblies of God [denomination], but in other denominations as well. So that's what he's been doing this year. He's one of several distribution partners that we have, and he also helped me co-write the two study guides.
The first one is for church leaders and it's kind of a smaller version of the second one. But the intent in that was to get in high-level statistics and make it very short and [tailor it] for church leaders and explain to them why they should care, why should you care about singles ministry. And then the second one is longer, and it's broken down by sections in the film with questions and answers and commentary so that any church leader, lay person, lay leader or pastor can facilitate small groups for singles or divorce groups in the church, and use this as a curriculum over a nine-week period. There are eight sections in the film, and then ninth would be, of course, the first week that they watch the film just to kind of get the 30,000-foot view. And then each week thereafter they watch those sections of the film individually, and then you spend time discussing those issues, those questions and try to draw out some meaning.
Recently on Movies at Home
Have something to say about this article? Leave your comment via Facebook below!
advertise with us
Example: "Gen 1:1" "John 3" "Moses" "trust"
Advanced Search
Listen to Your Favorite Pastors