Wading through Singleness in Single Creek
Laura MacCorkle, Senior Editor, Crosswalk.com
Thursday, June 02, 2011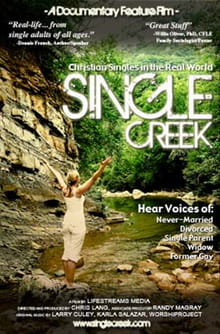 So … we're not trying to answer the questions in the film … but we're trying to have some meaningful dialogue. We're trying to say will you please wake up Christian church and look at this and try and help us facilitate, because too many singles feel like they're off in a corner. They feel like the whole point is to get them married off. But if that's the only point, [singles ministry] seen as this matchmaking club, then people will avoid it. They don't even want to be a part of it. Younger people think it's the older people coming because they're so lonely, and they can't find a date. So it's got to change. This curriculum was intentionally created that it could become a church resource and having a film allows the church as a group, as a family, to have also married people come to this class. Maybe they're not going to care about the classes, but guess what? The film could be used as a way to help them be more sensitive to singles in their midst.
How can Crosswalk.com readers get a copy of the DVD and the study guide?
The film is available at www.singlecreek.com in the Media Shop, and we can offer a discount to Crosswalk.com readers (see end of interview).
What's next after Single Creek? Do you envision it possibly becoming a series?
That's a great question. I want to be flexible and [follow] the Lord's leading. So many people have said you know what, this film is a mile wide and an inch deep. You could drill down any one of those singles' issues whether it be divorce or never married or the single mom with babies out of wedlock. There are so many rich opportunities that could become a series, I believe, under the Single Creek brand, if you will. I'm open to that. Part of my struggle is … we've been getting calls since the film came out. People are saying, "Well, we've heard Lifestreams Media is a great singles ministry program." Well, no, it's really not. We're not a singles ministry program. We're a filmmaking ministry. And but you know what? If God called me to try to minister to singles through film, I'm willing to do that. So if somebody read your article and maybe they're single, maybe they're twice divorced but God impresses them to contact us and they say I want to fund a series … I'm open to that. But I think social issues are a rich mechanism especially for those who perhaps haven't been reminded recently of their great need for Christ and the brokenness in the world. The world wants us to believe that we're becoming better people, that the world is evolving to a better place. And it's not. The Bible tells us how the story ends. And it doesn't end pretty except for those who are in Christ. Because he wins.
For more information about Single Creek, Chris Lang or Lifestreams Media, please visit www.singlecreek.com or www.lifestreams.org.
SINGLE CREEK COUPON & INFORMATION FOR CROSSWALK.COM READERS:
The unique coupon code for Crosswalk.com readers: "cross10"—the code will provide a 10% discount on all products at the media shop (www.SingleCreek.com/products) including: "Home Edition" and "Public Screening Edition" DVDs, as well as the Movie Soundtrack CD.
The "Home Edition" includes the TV broadcast version of Single Creek (58 minutes), plus the movie trailer and a music video. The "Public Screening Edition" (church-licensed product) includes several additional components: Extended footage, 2 study guides: 1 for church leaders/1 for small groups (PDF format), 2 promo posters (PDF format) and 3 music videos. The small group discussion guide is a structured curriculum, designed with questions and commentary for 9 sessions.
Watch the official trailer for Single Creek below …
Recently on Movies at Home
Have something to say about this article? Leave your comment via Facebook below!
advertise with us
Example: "Gen 1:1" "John 3" "Moses" "trust"
Advanced Search
Listen to Your Favorite Pastors