Animated Movies and the "Me" Generation
Ryan Duncan, Crosswalk.com Entertainment Editor
Tuesday, September 10, 2013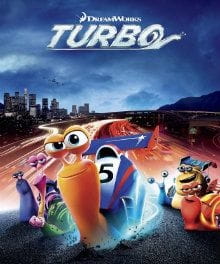 Dreams take work. Whether you're pursuing a career or building a relationship, you won't see any results without a good deal of perseverance. Contrast the way the heroes of Planes and Turbo simply "show up" at the starting line of major races against the example of Ariel from The Little Mermaid. Typically, Ariel is criticized by some in the church for being a bad role model to young girls, and while it's true she can be her own teenaged drama-queen at times, people often overlook the qualities that set her apart from other young adults. Specifically, she doesn't just set out on a whim, she's actually been working to gain knowledge of the surface world for years.
Ariel explores, she's independent, she collects trinkets from the surface and tries to understand how they fit into human society. True, most of the information she gleaned from the seagull was incorrect, but that doesn't change the fact that she was actively working toward her goals. Even her misguided bargain with the Sea Witch was admirable on one level, because she understood that all dreams require some degree of sacrifice to come true. When compared to teens who refuse to even get a part-time job to pay for gas, you've got to admit this mermaid has grit.
Be Happy, but Be Responsible
For we are God's workmanship, created in Christ Jesus to do good works, which God prepared in advance for us to do. – Ephesians 2:10
Sadly, "Be Happy" has become something of a sinful statement among Christians. I think it's because we've come to associate the meaning of "Be Happy" with "Do Whatever You Want Regardless of Rules or Consequences." Let's be clear, our happiness is within God's will (just look at Ecclesiastes 3:13, Psalms 37:4, Proverbs 17:22), but He also wants us to be responsible with our lives. To illustrate this principle, let's turn to The Lion King. You may recall from the movie's plotline that while Simba's father was murdered by his jealous brother Scar, Simba spent many years believing the death was his own fault.
To escape his guilt, as well as his responsibilities as king, Simba runs away to live the Hakuna Matata lifestyle. After years of a 'happy' and carefree existence, his past finally catches up with him. This forces Simba to make a choice all young people must one day make: face up to your mistakes and start taking responsibility for your actions, or continue to run from your problems. In the end, Simba realizes that the fate of his people is more important than his own personal happiness (or what he imagines is happiness). The Lion King is a perfect film to teach children about responsibility and a better, happier future (and if that fails, there's always hyenas).
Know Who You Are, Then Be Who You Are
For you created my inmost being; you knit me together in my mother's womb. – Psalm 139:13
Perhaps the most common message in any children's movie is "Be Yourself." The question of Identity. Like the other themes on this list, "Be Yourself" is not necessarily a bad thing to tell kids. God made us all unique, and we should be proud of the differences that make us who we are. The problem is that children are still in the process of discovering who they are, so encouraging them to "Be Yourself" can be a bit premature. Additionally, some well-meaning Christian parents end up restricting their child's freedom to discover and grow out of fear he or she will build an identity based on something other than faith in Christ.
Recently on Movie Features
Have something to say about this article? Leave your comment via Facebook below!
advertise with us
Example: "Gen 1:1" "John 3" "Moses" "trust"
Advanced Search
Listen to Your Favorite Pastors