AnnaSophia Robb: Cuteness and Light – and One Very Big Dog
Annabelle Robertson, Entertainment Critic
Tuesday, February 15, 2005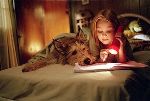 For most people, it takes years to reach their dreams.  But AnnaSophia Robb needed only six, after deciding to become an actress.  At the age of nine, she took a children's acting class in her hometown of Denver, Colorado, and was spotted by a Hollywood agent.
Soon, AnnaSophia (which is pronounced with a long "o" rather than a short "a") was appearing in short films and national commercials.  And now, the young actress – who has a deep-rooted commitment to her Christian faith, along with her parents – is about to burst onto the big screen.
In "Because of Winn-Dixie," by director Wayne Wang, AnnaSophia plays India Opal Buloni, the daughter of a Baptist preacher (Jeff Daniels) who adopts a lovable mutt.  She names him Winn-Dixie, after the store where she found him, and the two bring together the town's outcasts, including characters played by Cicely Tyson, Eva Marie Saint and musician Dave Matthews. 
As Opal and Winn-Dixie create a community all around them, they also teach the adults that the things we have in common are far more important than those that separate us. 
Crosswalk interviewed AnnaSophia, now 11, in Los Angeles, during a promotional tour for the film.  Here is some of what she had to say. ...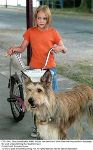 Q:  What kind of training did you have to go through with the dog for this film?
A:  Well, for a couple weeks, we had to just get used to the dog. I hung out with him and just walked him around and made him sit and held treats up to my eyes.
Q:  What's his favorite treat?
A:  He likes the liquorish treats [featured in the movie.]  I do, too.  (grinning)
Q:  Was it just one dog on set, or did they have different dogs?
A:  They had five, but two of them mainly [that were used in the film].
Q:  I really love the prayer from the book that you delivered in the film, the prayer that you'd have friends.  Do you pray? And have you ever had a big prayer answered?
A:  Um, I do pray, and I love being able to pray just because you can tell God anything, and just listen. And even if it doesn't seem like He's listening, He's always there. I think that's really great, because sometimes you just need someone to talk to, but you can't talk to your friends or your parents. I think your animals are kind of like a symbol of God, because they listen to you always, and they're so sweet and they just love you, no matter what, even if you hit them or throw them -- which you definitely do not want to do!
Q:  So how was it working with great stars like Eva Marie Saint and Cicely Tyson?
A:  It was really amazing. They had so much to offer, and they really took me in as their, kind of, as their child or as their friend or as their granddaughter. And they told me stories about movies, other movies they had done, and childhood stories.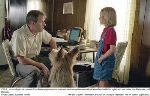 Q:  Did they give you acting lessons?
A:  Jeff – Jeff Daniels did. Just watching him, I got some tips, just 'cause he'd close his eyes and really get into a scene for a couple minutes before the scene takes place. So I think I learned a couple things from him.
Recently on Movie Features
Have something to say about this article? Leave your comment via Facebook below!
advertise with us
Example: "Gen 1:1" "John 3" "Moses" "trust"
Advanced Search
Listen to Your Favorite Pastors