AnnaSophia Robb: Cuteness and Light – and One Very Big Dog
Annabelle Robertson, Entertainment Critic
Tuesday, February 15, 2005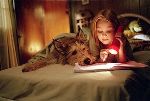 Q:  How is it being a Christian in Hollywood, in the movie industry? Is it difficult or easy?
A:  You just go with yourself and you pray, but I don't like forcing things on people, like, you know, talking about what they think about God, because sometimes it makes them feel uncomfortable. And I think, you know, everybody can believe what they believe, and I believe what I believe, and that's okay. 
Q:  How do you go about choosing scripts?
A:  Well I haven't really gotten to choose scripts yet!  [ laughter ]
Q:  Who chooses them for you?
A:  Well, you don't really choose them, you audition for them. But I have an agent, and he looks at stuff and brings them in. I audition, and if I get it, that's great, and if I don't, you know, too bad!
Q:  What are the criteria that you have?
[Mother answers]: We pray about it. We pray about every role for AnnaSophia, and our prayer has always been to follow God's plan for her life. If it's a meaty role, it's worth doing.
Q:  There must be a lot of sacrifice that you as a parent have gone through, to allow her this kind of opportunity. Does AnnaSophia recognize the sacrifice?  [ laughter ]  No pressure.
A:  Yeah!  I do. I think I do. My mom has, she has sacrificed her career for me and my dad has started his own business, now, and I realize what they've done, but I think it's – I think it was kind of meant to be, because I think my mom kind of enjoys this, because, not working, I think it might be kind of fun, and traveling around, and having free time. But I really thank her, a lot, for doing this, because it's a really big thing for me, and I don't think lots of other kids have their parents going about and going all over the world just for them.
Q:  What sort of films would you, as you get older and you do get to make more of your own choices, what sort of films would you like to do, what sort of roles would you like to stay away from?
A:  Well I don't want to do any Victoria's Secret commercials.  [ laughter, applause ] Um, I think, just anything, really, that's worthwhile. I want to do stuff that kids can watch, but sometimes I think it's a good thing that kids can't watch stuff, because there's stuff that's made for adults, and there's stuff that's made for children. I mean, I want to be in adult films, when I get to be an adult, because I don't want to be in Barney videos, you know.  I can be in kid movies and I love kid movies because they usually have really good morals.
Q:  If you could pick one or two actresses to model your career after, if you had to pick a career path of type of movies you wanted to do, who would those actresses be?
A:  I'd like to do, uh, be with Nicole Kidman, she's my role model, and Meryl Streep.
Q:  You obviously have a different kind of life, but the whole moving from one community to the next is a very real thing, not just for preachers' kids, but for a whole bunch of other kids. What would you say to kids who feel lonely and isolated?  Do you have any kind of advice to kids your age about how to cope? 
A:  I think you should, um, don't be afraid of other kids, because some of them are kind of mean, but if you really try to love them and be kind to them, they'll be nice to you, like Opal was to the Dewberry boys, and Opal was to Amanda, and that's all you have to do, and just don't be shy, because, I mean it's okay if you're shy, but you have to make SOME friends, and I think having a dog is a good way to start – unless you're allergic to one.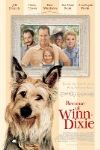 20th Century Fox's "Because of Winn-Dixie" stars AnnaSophia Robb, Jeff Daniels, Elle Fanning, Dave Matthews, Cicely Tyson and Eva Marie Saint and releases in theaters nationwide on Friday, February 18, 2005.

Photos © 20th Century Fox
Recently on Movie Features
Have something to say about this article? Leave your comment via Facebook below!
advertise with us
Example: "Gen 1:1" "John 3" "Moses" "trust"
Advanced Search
Listen to Your Favorite Pastors