Bruce Barry: Taking the Holy Ghost Approach
Annabelle Robertson, Entertainment Critic
Wednesday, November 24, 2004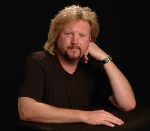 Annabelle:  What happened after that?
Bruce:  I got back to the church and I discovered that seven of my employees were Christians.  I had no idea, either.  I said to them, "Do you know that this church as been praying for me every single day for the past seven months?"  They start hugging me and high-fiving me, and said, "Man, we've been praying for you for a lot longer than that.  After that, I was ready to take on every church in America and lead every kid to Christ.
But I didn't know if my wife was going to divorce me over this.  She was Roman Catholic and had always tried to get me to go to church, but I didn't know if this was a cult or what, or how different it was from Roman Catholicism.  I called her on the phone, but I didn't know what to say, so I just talked.  She said I sounded different.  I told her that I had had a pretty big day today … then I told her what had happened.  The reason why I did it, I said, is that I want to go to heaven. 
She started crying and said, "Well, you're not going to heaven without me!"  Vivian was on a plane the next day.  We went to church that Sunday, she was saved, and we were both baptized that night.
Annabelle:  So what has changed for you since then?
Bruce:  My life has flip-flopped overnight.  Your life will never be the same, the pastor [of that church] told me, and it's true.  It's unbelievable what God has done in my life.  I think that's why God kept me away from His church for so long.  Now, it affects how I look at churches and how I design my movies. 
God brought me in through the eyes of a child.  He knew my heart was so stone cold that if an adult had asked me, I would have refused.  But a 12-year-old opened my heart and my mind.  Now here I am designing churches and videos for kids.  I'm still learning all these stories for the first time, but I'm trying to make a difference.  We're not trying to force it down anyone's throat, but at least the non-Christian kids will walk away and say, 'What a cool character.'
Annabelle:  So what's next for you?
Bruce:  My next Roach Approach movie is about Daniel and the Lion's Den, called "The Main Event."  I'm also working on a series called The Bee Squad, titled "Bee All You Can Be," as well as "Professor Thinkawrinkle," which is a PeeWee Herman-"Back-to-the-Future" style TV show inspired by the Muppets. 
You know, what God is doing right now is absolutely incredible.  Everybody knows here at the company that what I stand for is quality.  God deserves the best, and that's what I'm trying to do.  My sister died of Hodgkins Disease.  Toward the end, she couldn't breathe.  She had a tracheotomy.  She had never gone to church, but just before she died, she wrote on a piece of paper, "Always keep the faith and live each day as if it was your last."  And what's what all my movies are about – always keeping the faith.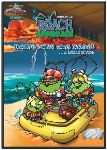 "The Roach Approach, Don't Miss The Boat!" is an original new series featuring the wacky adventures of Squiggz and his six-legged roach family, bringing to life the values of love, faith, hope and respect as they journey through timeless stories of the Bible.   The 50+ minute DVD release has special bonus materials including a 'behind the scenes' tour of Wacky World Studios, music videos and concept art from the movie. Also available is a full music CD entitled "Songs from The Roach Approach, Don't Miss The Boat!" featuring Michael McDonald, Kirk Whalum, Natalie Grant and Gabriel Patillo, as well as three other Wacky World Studio products: "Noah's Journey of Faith CD Read Along & Storybook," "Noah's Journey of Faith DVD Storytime & More" and "The Biblical Quizzical Game" interactive Bible trivia game.
For more information about Bruce Barry, Wacky World Studios and "The Roach Approach," visit www.wackyworld.tv.

Fun Facts About Cockroaches:
Number of legs on a roach:  6
Number of miles roaches can run per hour:  3
How often roaches pass gas:  every 15 minutes
Number of knees on most roaches:  18
Number of minutes a roach can hold its breath:  40
Percentage of time roaches rest:  75
Number of species of roaches in the world:  5,000
Recently on Movie Features
Have something to say about this article? Leave your comment via Facebook below!
advertise with us
Example: "Gen 1:1" "John 3" "Moses" "trust"
Advanced Search
Listen to Your Favorite Pastors